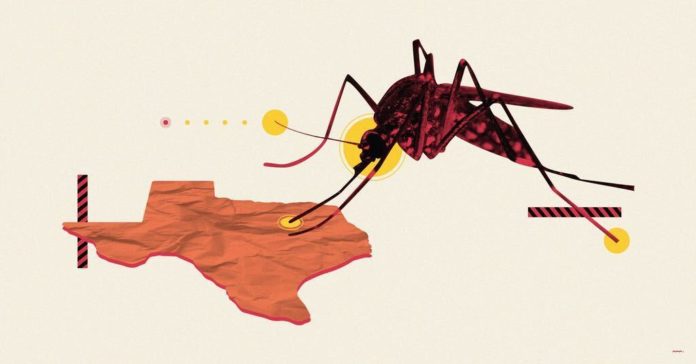 The coronavirus gets the big headlines, but Texans are at risk of another virus, too — West Nile virus.
The West Nile virus is a common mosquito-borne disease that can cause mild flu-like symptoms.
Mosquito samples have tested positive for the West Nile virus in Montgomery County, Mesquite, Denton and Arlington, Texas. Harris County's first positive case of the West Nile virus was found three weeks ago. So far, there are no reports of West Nile infections in people in Texas this summer. 
What do we need to know to avoid the virus? And what's different now that we are in the COVID-19 pandemic?
Texas Medical Association COVID-19 Task Force member Dr. Charles Lerner, an infectious disease expert based in San Antonio, answers those questions and others.
Since everyone is focused on COVID-19, what do we need to consider now that we are also in West Nile virus season?
Lerner: "The symptoms of West Nile disease overlap with some of the symptoms of COVID-19."
"Because 80% of those infected have no symptoms, it is very difficult to tell what is the absolute frequency of infection."
What are the symptoms?
"Symptoms of the infection occur in 20% of people and include most prominently significant fever, mental status changes, severe headache, tremor and muscle weakness. Loss of vision, numbness, paralysis and coma can occur. 1/150 infected patients develop severe neurologic disease and may never recover from coma.
"People with weakened immune systems and those over 60 years of age are at greater risk for severe disease. 10% of those who developed signs affecting the central nervous system will die. This is a viral illness, and there is no medication to treat it."
What preventative measures should we take?
"Eliminate standing water around your house to reduce breeding places for mosquitoes.
The best mosquito repellent contains DEET. 30% DEET is the optimal concentration for adults and no more than 15% for children. Other mosquito repellents that are effective include picaridin. Most of the other preventive compounds are much less effective.
Using clothing that is impregnated with permethrin will prevent mosquito bites. Covering as much exposed skin as possible is a very effective method for reducing bites."
Be sure to remove standing water from:
open trash/recycling carts
piles of trash or debri
boats and pool covers
fountains and bird baths
clogged rain gutters
water bowls for pets
buckets and barrels
flower pots and saucers
leaky hoses
wagons and other toys
ponds
neglected swimming pools
tires
To learn more about the West Nile virus, visit the CDC website.