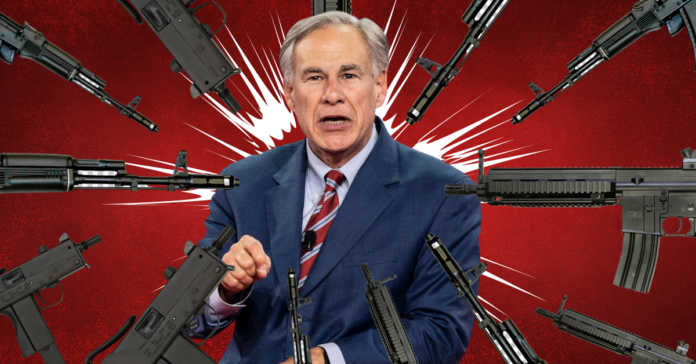 Last week, Gov. Greg Abbott was reelected for a third term. During his campaign, his main focus was border security and touting Democratic President Joe Biden's unpopularity in Texas. This begs the question: What is next for Texas? More specifically, what is next for Gun rights?

"Texans have a God-given right to self-defense," Abbott said earlier this year.

Ever since the start of his career, Abbott has overseen legislative changes to allow Texans even greater firearm freedom. In just the seven years that he has served as governor, dozens of people have been killed in mass shootings across the state, and not much has been done to tighten the state's gun laws, on the contrary, they remain the least restrictive in the United States.

Abbott has witnessed six mass shootings during his two terms and has not used his executive powers to champion ways to reduce gun violence. He prefers to blame the carnage on "madmen" and focuses his attention on mental health and security, instead of the easy-to-access assault weapons.

Track Record
2016: In his first term, Abbott paved the way for an "open carry" law, that allows licensed Texans to tote their handguns in public, and "campus carry," extending those permissions to colleges.

2017: 26 congregants were killed at a Baptist church in Southern Texas.

Abbott declared: the best way to prevent mass shootings was "by using the forces of God".

2018: A 17-year-old gunman opened fire and killed 10 students at a Santa Fe high school.

Abbott called for prayer, but also discussed expanding background checks, banning assault weapons, and passing "red flag laws."

2019: After those two mass shootings where 36 people died, lawmakers passed legislation to bolster the number of school marshals and to increase mental health resources. They also passed a law allowing people to carry guns at places of worship, as reported by the Fort Worth Star-Telegram.

None of those laws restricted access to guns.

2019: A gunman killed 22 people at a Walmart in El Paso and another killed seven others and wounded at least 21 more in Midland-Odessa .

Abbott announced two task forces: The Texas Safety Commission and the Domestic Terrorism Task Force. He also issued a Texas Safety Action Report that included background checks for private gun sales.

Those proposals didn't make it into law.

2021: Last year, Abbott relaxed open carry rules even further. The legislature passed into law a "constitutional carry" bill that now means anyone in Texas over the age of 21 can carry a handgun without a permit.

"You could say that I signed into law today some laws that protect gun rights," he said at the bill signing.

"But today, I signed documents that instilled freedom in the Lone Star state."

2022: A gunman killed 19 elementary school children and their two teachers in Uvalde.

Although the gunman who killed 21 people had no known history of mental illness, Abbott believed that the area near the school lacked sufficient access to mental health care.

"We as a state, we as a society, need to do a better job with mental health," he said.

The families from Uvalde pleaded for Abbott to grant their wishes to make 21 the minimum age to purchase combat-style rifles. The governor, however, remained unwilling to reconsider any restrictions on gun purchases.

There was no special session after Uvalde, and Abbott has yet to make any specific proposals for legislation that would address gun violence for the 2023 legislative session.
To learn more about gun violence in Texas, see the RA News Gun Violence Watch page.