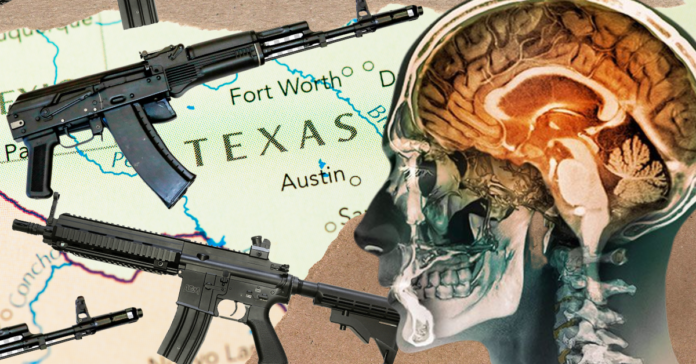 After a resounding success in the midterms, Texas Republicans are highly unlikely to pass any sort of gun control when the 88th Texas Legislature begins meeting in January. However, with the memory of the Robb Elementary massacre still fresh in people's minds, there is some hope that mental health will see some support and expansion.
Hundreds of bills have already been filed, but so far Republican leadership has not said what resources they may vote to expand. Expansion is desperately needed, even outside the possible link to gun violence. Texas ranks dead last in per capita mental health spending in the nation, and Texas Children's Hospital recently reported a huge spike in emergency room admissions for children in mental health crisis.
Texas does have several systems that are in place and serving residents, but they are badly underfunded. Over 100 state agencies have filed proposals for more money totaling $20 billion, but so far no Republican has stepped forward to champion the cause.
The most likely movement will probably come from two state agencies that are already funded and well-established: The Child Psychiatry Access Network (CPAN) and the Texas Child Health Access Through Telemedicine (TCHATT). The former is a free pediatric physician resource that allows professionals who may be unfamiliar with mental health disorders to easily consult state approved experts. The latter runs mental health telemedicine services through Texas school districts to help children in areas with few mental health professionals receive counseling. Both are part of a targeted campaign to address "opportunity youth," those whose disorders may make them a danger to themselves and others.
However, these programs have their flaws that will likely require significant overhaul. Some people familiar with the program have found that most TCHATT users actually come from urban areas with better resources rather than rural ones with few. This is likely a combination of poor broadband infrastructure and the fact that participating is voluntary for school districts. In the more conservative counties, there are concerns about something like TCHATT impugning on parental rights, such as LGBT kids seeking counseling in spite of homophobic or transphobic parents.
Greater funding for CPAN and TCHATT is generally an easy win, especially since the latter is funded through Texas universities. While it may be simply slapping a bigger bandaid on the problem, there's no doubt that these programs do give mentally ill youth a chance for early intervention before a crisis does irreparable damage.
Unfortunately, mental health for adults seems to have no supporters in the current environment. There do not appear to be any plans for expanding substance abuse funding despite alcohol and drug use being linked with a majority of gun homicides. When it comes to adults, an outdated, overly moralistic viewpoint tends to dominate, with many conservatives dismissing the idea that mental health in grownups is a social problem that should be tackled with state resources. Nor does there seem to be interest in expanding state funded psychiatric care, possibly related to a long debunked conspiracy theory that certain medications are the cause of mass shootings.
No gun control is likely to pass the legislature next year, nor are they likely to use the resources from the bill signed by President Joe Biden. To the extent that mental illness can be used as a scapegoat for gun violence, some Texas Republicans can probably be counted on to increase the funding and resources for programs aimed at children. Of the $100 million that the legislature is slated to move into school safety, about $10 million will go to mental health, including the Health and Human Services Commission (HHSC) to increase Multisystemic Therapy (MST) across the state.
Building a more robust state-funded system aimed at the adult population though? No one has said much yet. Instead, Texas Republicans seem content with minor tweaks.