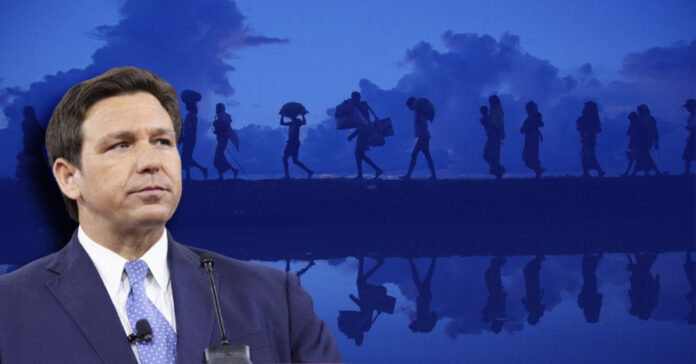 What do a former U.S. Army counterintelligence officer, a Florida governor's chief of staff, Texas Department of Public Safety officers, and a Texas Division of Emergency Management official have in common?
They all gathered along the U.S.-Mexico border to find multiple locations to ensnare migrants for the highly publicized airlifts to Martha's Vineyard, an affluent island in Massachusetts.
The plan, revealed in text messages released late Monday, shows that Florida Gov. Ron DeSantis' staff communicated with Texas officials well in advance of the flights to Martha's Vineyard from Texas where immigrants were coerced into leaving the state.
Perla Huerta, the former Army counterintelligence officer from San Antonio, recruited stranded immigrants to fly out of state as a political stunt by DeSantis. Before the flights, she rode along with a high-ranking Florida official and Texas DPS officers to scout out locations in Del Rio where she could find migrants.
Most of the text messages were between Florida's public safety czar Larry Keefe and James Montgomerie, a contractor who was in charge of facilitating the flights. Montgomerie was also Huerta's boss. The messages going back to August 15, show that Huerta and Keefe were working on the flights to Martha's Vineyard for weeks prior.
On September 12, two days before the flights, Huerta messaged Keefe to let him know she had recruited enough migrants to fill the planes. "Yahtzee!! We're full," she wrote to him at 6:20 p.m.
Court records show Huerta recruited roughly 50 South Americans near a San Antonio migrant resource center and then flew them to Massachusetts on two chartered private planes on September 14.
Huerta texted Keefe, "Victory Arms For you!!!! Thank you for this opportunity and support," after the flights landed. Keefe responded saying, "Thank you for all, Perla!!! Let's drive on !!! Salute to you. Larry."
The latest texts, released as part of a public-records lawsuit filed by the Florida Center for Government Accountability, show that the Florida contingent worked with Sam Miller, operations chief with the Texas Division of Emergency Management. He supplied them with information in advance of DeSantis' operations.
Michael Barfield, the center's director of public access, said "We've also learned there were encrypted messages using Signal by these individuals, and believe more records have not been produced yet," Barfield added.
The encryption app Signal is favored by far-right extremists who attacked the U.S. Capitol on January 6.
CNN reported that Texas Department of Public Safety spokesperson Ericka Miller confirmed that "representatives from Florida" observed their operations firsthand but did not detail the meeting further, or what was discussed.
Neither Abbott's office nor Miller's responded to a request for comment.
The texts show Miller provided Huerta with information about migrants navigating north after being processed after being released by U.S. Border Patrol agents. The messages refer to meetings he had with the Florida delegation regarding the matter.
Miller's agency released a statement saying it received a request "from our DPS partners" to brief Florida Department of Law Enforcement personnel touring the border area in August to observe "our state's voluntary border bus operations."
The statement also maintained that Emergency management officials "were not aware of how Florida law enforcement officials would utilize the information gathered from those conversations."
The texts do not say definitively whether Huerta and Keefe made Texas officials aware of the extent of their plan to fly migrants from Texas to Florida and ultimately to Martha's Vineyard.
Abbott's office may have known about DeSantis' plans, despite a statement by his chief spokesperson, Renae Eze. "Though we were not involved in these initial planes to Martha's Vineyard, we appreciate the support in responding to this national crisis and helping Texans," Abbott press secretary Renae Eze told the San Antonio Express-News last month.
But not everyone is taking Eze's word for it. "The notion that Texas and Governor Abbott say they were not involved is utterly (expletive)," Barfield said Tuesday. Barfield's organization believes DeSantis' office appears to have withheld records despite orders by a judge to release all pertinent public information connected to the Martha's Vineyard flights.
The exchange, between DeSantis' chief of staff, James Uthmeier, and Luis Saenz, Abbott's chief of staff, included information for Keefe and a message that said that "he can loop in others as needed." The message also said that Keefe was a "former US Atty under Trump, trustworthy and effective."
Vertol Systems Inc, an Oregon-based aviation company used by DeSantis to fly migrants to Massachusetts, also has connections to DeSantis's political allies and has donated money to various campaigns, according to NBC News.
In addition to tracking migrants for would-be flights, Keefe and Huerta were in South Texas studying Operation Lone Star, the border search effort by Abbott that has cost billions of taxpayer dollars and caused billions of losses in revenue for U.S. businesses.
Other texts show Huerta was also scouting churches in Del Rio for migrants. But the texts do not reveal what may have caused the Florida contingent to change the focus of its illicit mission to San Antonio.
Huerta, 43, is now a person of interest in an ongoing investigation by the Bexar County Sheriff's Office but has not been interviewed as of yet, as she has virtually disappeared, deleting her social media profiles and selling her home in Tampa, Florida.
Last month, Bexar County Sheriff Javier Salazar announced that the group of migrants transported by DeSantis were indeed victims of a crime. His certification clears the way for those migrants to obtain special visas, called U visas, that they would otherwise not be eligible to receive. It will give the 49 migrants nonimmigrant status in the U.S. to ensure that they are readily available to serve as witnesses during investigations or trials that resulted from the case.
After retiring in August after 20 years with the Army, she recruited the targeted immigrants by paying $700 to a homeless Venezuelan man named Emmanuel, according to the League of United Latin American Citizens and attorneys for the migrants.
Emmanuel was instructed to divide the cash and place it in paper bags to be hidden near a dumpster behind a restaurant in the East Terrell Hills section of San Antonio, according to Jorge Aristotelidis, one of Emmanuel's attorneys.
"The money was left in a place where nobody else would know," Aristotelidis said. "These people did not want anyone to know who was paying." Emmanuel's last name has not been divulged for safety reasons, as he is cooperating with investigators. He added that Emmanuel "feels he was manipulated" by Huerta because she gave him misleading information to pass on to the fellow countrymen he recruited. He was living in a homeless encampment behind a McDonald's near the migrant center when Huerta approached him.
The Boston-based Lawyers for Civil Rights has sued DeSantis, accusing him of using "false promises and misrepresentations" to coerce migrants into taking the flights.
DeSantis' migrant flight stunts are also the subject of the Treasury Department's inspector general as to whether the governor improperly used Federal money sent to Florida for COVID-19 relief.