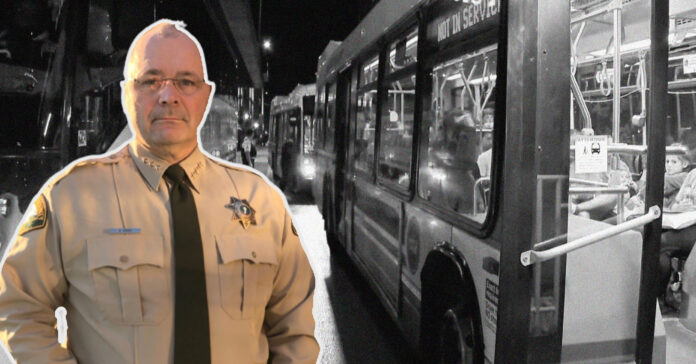 Thursday Bexar County Sheriff Javier Salazar announced that the group of migrants who were picked up last month by order of Florida Gov. Ron DeSantis were indeed victims of a crime, qualifying them to obtain a special visa. They were flown to Martha's Vineyard last month as a political stunt by the Republican governor.
The certification clears the way for those migrants to obtain special visas, called U visas, that they would otherwise not be eligible to receive. It will give the 49 migrants nonimmigrant status in the U.S. to ensure that they are readily available to serve as witnesses during investigations or trials that resulted from the case.
"Based upon the claims of migrants being transported from Bexar County under false pretenses, we are investigating this case as possible Unlawful Restraint," Salazar said in a statement to GBH News, a public radio station in the Boston area.
He also told GBH that his office has identified suspects in the investigation but is not releasing names publicly as the probe proceeds. The station also reports that the U.S. attorney for the District of Massachusetts, Rachael Rollins, is not afraid to investigate powerful people and that state and federal law may have been broken.
He opened an investigation into the incident last month shortly after the incident occurred. The Venezuelan nationals were transported to Martha's Vineyard, and are alleged to have been given false information about where they were going and the support they would receive once they arrived.
Boston-based Immigration attorney Rachel Self is working with the Bexar County Sheriff's Office to interview the migrants as part of the criminal investigation. She flew down to San Antonio to obtain the certification paperwork on behalf of the migrants.
"Since the day they landed on Martha's Vineyard, it has been clear to all who spoke to them that the migrants had been preyed upon and victimized," Self wrote in a statement to The Hill.
"These certifications will ensure that the migrants can continue to help our law enforcement officials and that they will be able to process and heal from the incredibly traumatic experiences they have suffered as a result of the cruel, heartless acts committed against them," the statement continued.
Salazar's statement comes a day after the Department of the Treasury announced that it would investigate DeSantis's usage of COVID-19 relief money used to fund migrant transportation, according to a letter provided to Massachusetts Sen. Edward Markey.
"We will review the allowability of use of SLFRF funds related to immigration generally, and will specifically confirm whether interest earned on SLFRF funds was utilized by Florida related to immigration activities and if so, what conditions and limitations apply to such use," the letter reads.
On behalf of the migrants, a group called Boston-based Lawyers for Civil Rights filed a class action lawsuit in federal court in Boston against DeSantis based on allegations of "fraud" and "misrepresentation."
Ivan Espinoza Madrigal, executive director of the group, said that the certification by Salazar's office "opens the door for immigration protection…this is a fundamental requirement to be able to apply for a special program reserved for victims of crime."
The lawsuit reads that the "Defendants manipulated them, stripped them of their dignity, deprived them of their liberty, bodily autonomy, due process and equal protection under the law, and impermissibly interfered with the Federal Government's exclusive control over immigration in furtherance of an unlawful goal and a personal political agenda."