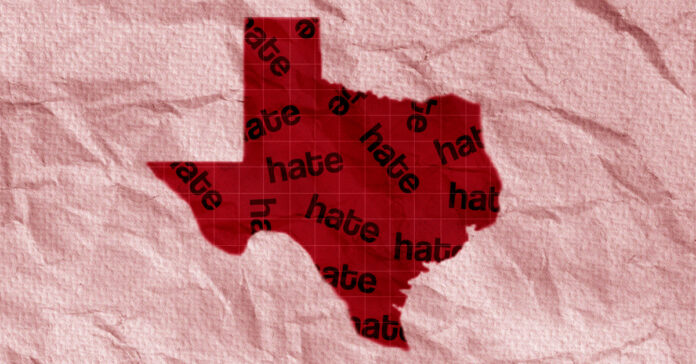 According to a new report from the Anti-Defamation League, white supremacist activity is surging in Texas. The activity is being empowered by mainstream Republican support of conspiracy theories and hateful policies.
The comprehensive report reveals a shocking escalation of white supremacist terrorist activity in the Lone Star State since 2021. The activity ranges from violent attacks to propaganda campaigns to rallies.
The level of anti-Semitism has risen dramatically. Incidences of vandalism, harassment, and assault have risen 89 percent since 2021. Flyer campaigns using conspiracy theories about Jewish people drinking the blood of babies and other occult nonsense have been circulated throughout Texas neighborhoods by groups like the Goyim Defense League and Patriot Front.
Though no Texas Republican politician has endorsed anti-Semitic conspiracy theories, the party's fervent embrace of QAnon cannot be divorced from anti-Jewish sentiment. Many of the most popular figures in QAnon are open supporters of Hitlerism, and spaces dedicated to discussing QAnon quickly devolved into gas chamber jokes and cries for eradication of Jewish people. Even when there isn't open anti-Semitism, the connection to "global elites" and "powerful East Coast bankers" are coded references to traditional neo-Nazi efforts.
The list of Texas Republicans who have flirted with or outright embraced QAnon at times is very long. Former Texas Republican Party Chairman Allen West has often appeared at events linked to QAnon and spread their conspiracy theories. So have Agriculture Commissioner Sid Miller and U.S. Rep. Louie Gohmert. The long-debunked QAnon election-denying documentary 2,000 Mules was promoted by Lt. Governor Dan Patrick and Attorney General Ken Paxton.
Anti-LGBT activity has also been a major part of the rise in terrorism. In 2022, there were 22 incidences of anti-LGBT activity fueled by "groomer" conspiracy theories, and there have already been 10 in 2023. Aryan Freedom Network and the American National Socialist Party, both fervent neo-Nazi groups launched flyer campaigns around the state. Protests at LGBT events have drawn violent figures from the Proud Boys group, as well as notable Texas neo-Nazis.
The entire statewide Texas Republican leadership has helped fuel the rising anti-LGBT extremism that the ADL has chronicled. The Texas Legislature, with glowing support from Governor Greg Abbott, has repeatedly targeted LGBT youth in everything from sports to access to health care in laws over the past two sessions. Accusations of grooming, while often said in carefully coded language, are a major part of the current Republican agenda.
As is the anti-immigrant activity. Groups like Texas is Patriots for America and other vigilantes have illegally detained people, accusing them of being agents of Mexican drug cartels or child sex traffickers. Their actions are only distinguishable from Abbott's Operation Lone Star by official sanction from the state government.
Since 2021, Texas Republicans have pursued an extreme rightward movement when it comes to marginalized people. That movement is mirrored in the work of open neo-Nazis, Hitlerists, Chistian nationalists, and other terrorists who have increased their work in what is apparently a welcoming state.