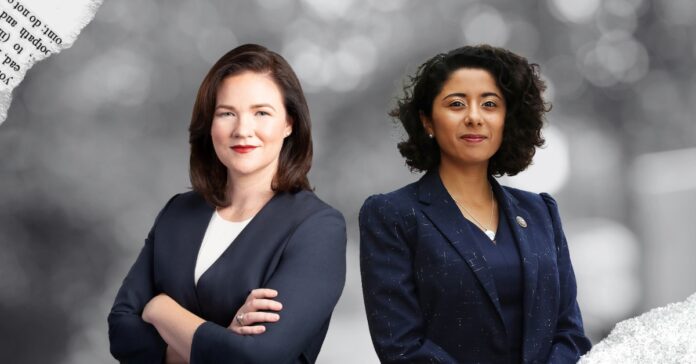 In the November 2022 election, Alexandra del Moral Mealer ran as a Republican candidate against Harris County Judge Lina Hidalgo. After losing by over 18,000 votes, Mealer decided to file an election challenge. Nearly a year later, she has opted to withdraw her legal challenge, according to court documents filed Thursday.

At first, Mealar had graciously accepted her loss and did not seem poised to join the Republican movement to deny every election they didn't win. Then on January 6, she released a statement alongside her challenge, which was one of 22 similar cases brought by GOP candidates in Harris County.
Her decision to drop the lawsuit was explained in a statement she issued on Thursday.
"My goal in filing an election contest was not to relitigate my race," Mealer stated, "but rather to ensure that future elections are fair to all voters and candidates. To this end, I sought to uncover all the data and records related to the November 2022 election."

Mealer also indicated her intention to advocate for changes to the Texas Election Code regarding public access to election data, as reported by The Houston Chronicle.
Back when Mealer first filed the challenge, Harris County Attorney Christian Menefee criticized Mealer's lawsuit, labeling it "a shameful attempt by a group of losing candidates"

"These losing candidates are finally laying bare what we all know to be true – for them, it's not about improving elections or making sure our elections are secure, it's about playing games with our democratic systems and refusing to accept the will of the voters," Menefee said in a statement back in January 2022.

He continues to echo these remarks, criticizing Mealer's lawsuit as a "waste of time and resources." Accusing Mealer of spreading conspiracy theories in an attempt to overturn the will of the voters.

Mealer's initial lawsuit focused on many well-reported problems during the November election involving the new voting machines. Some locations ran out of ballot paper, others failed to open on time, and some machines didn't work. The problems were exacerbated by new restrictions on voting that drove more people to the polls on election day rather than voting by mail, as well as the county's lack of a central reporting system for issues. Even weeks after Election Day, it was unclear how bad problems actually were.

However, Meale's former legal counsel, Elizabeth Alvarez, filed a letter with the court last month, expressing her lack of support for Mealer's recent claims of ballot fraud. Mealer denied that her allegations regarding the election were related to ballot fraud.
Mealer's decision to drop her lawsuit came eight days after she publicly criticized Judge Hidalgo for taking medical leave to receive treatment for clinical depression.

"Hidalgo must return or should resign," Mealer wrote.

Hidalgo's staff responded by calling those comments "irresponsible" and later confirmed that Hidalgo plans to return to work on October 2, as reported by The Houston Chronicle.