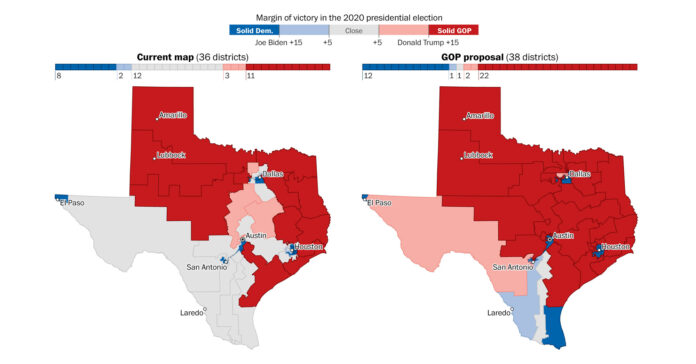 On Friday morning, a three-judge panel overseeing the challenge to Texas' redistricting maps rejected an argument from the state to stay the case pending a decision by the US Supreme Court in Milligan v. Merill, the Alabama redistricting case, and the Texas Legislature redistricting again during the 2023 regular session.

Only two days earlier, the state's attorneys filed a motion to stall the consolidated challenge to their redistricting maps. In it, Texas claimed that the "Gingles factors", a test created from a Supreme Court opinion on the legal requirements for racial majority-minority districts during redistricting, and the Voting Rights Act (VRA) are on "borrowed time." Borrowed because they expect the Supreme Court to clarify the rules regarding claims of racial discrimination in redistricting in the state's favor when the nine justices hear and decide the Alabama case later this term.
Mirroring an argument they made in state courts last month, Texas also argues the challenges to the new legislative maps are moot because the Texas Legislature can and must redraw the state House and Senate maps in the 2023 regular session to comply with a provision of Texas Constitution requiring redistricting occur in a regular session after the Census data is released. Redrawing during a special session occurred as a consequence of the delay in Census collection and data delivery due to the COVID-19 pandemic.
This is not the first time the courts have rejected the state's arguments to dismiss or stay the case ahead of oral arguments this fall. The courts rejected Texas' arguments to dismiss the case on the grounds that individual plaintiffs, as opposed to the Department of Justice, cannot sue under racial discrimination claims over redistricting. The state continues to include the argument in each of their briefings to the court claiming they reserve the right to use it should the US Supreme Court ultimately decide otherwise in a separate case or if the case is appealed to the highest court.
The redrawn maps will be used for the 2022 general election, a fact to which both parties agree and admit, and the lack of competition in congressional and legislative maps will remain as the case works its way through the courts.