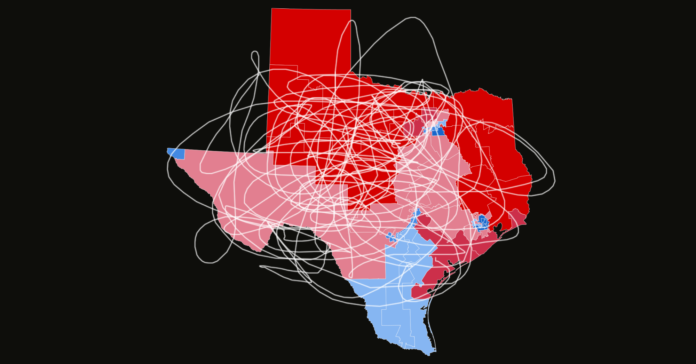 The Texas Legislative Council posted the first proposed redistricting maps for the Texas Senate by Republicans in the upper chamber led by Lt. Gov. Dan Patrick today. Members of the public can find an interactive map here and find more detailed information here.
The third special session of the Texas Legislature starts on Monday, and the main goal will be to set the new congressional, state House, state Senate, and state board of education district lines based on the results of the once in a decade U.S. Census to ensure they have roughly equal populations.
Redistricting is perhaps the most partisan process the Texas Legislature ever engages in every decade. Politicians conspire — legally, most of the time — to choose which voters they would like to have in their districts and to pick which voters might be most poisonous in the districts of their political foes.
This will be the first time Texas will be redrawing maps and not be under the scrutiny of the federal Department of Justice under Section 5 of the Voting Rights Act that was gutted by the U.S. Supreme Court in the Shelby County v. Holder decision. Republicans now have much more flexibility to draw lines more advantageous to them for the next decade.
That said, there is speculation of litigation delaying implementation of the new lines, as happened the last time the Texas Legislature had to redraw maps ten years ago. Texas Republicans foresaw this and passed a primary and runoff scheduling law in the second special session delaying both the filing deadlines and the dates of the primaries should the redistricting maps get implemented later. For example, if redistricting maps get implemented in January 2022, primaries would be delayed to May 24 and runoffs to July 26.
Two Democrat state Senators, Roland Gutierrez of San Antonio and Sarah Eckhardt of Austin, have already filed a lawsuit in federal court to prevent the Legislature from redrawing the state legislative lines in a special session. They point to Article III, Section 28 of the Texas Constitution, which requires "the Legislature, at its first regular session after the publication of each United States decennial census, apportion the state into senatorial and representative districts" (emphasis added). That would mean the Legislature would have to redraw its maps in 2023. Should the plaintiffs succeed, the current maps should be redrawn by the courts for the 2022 election, which would be advantageous to Texas Democrats.
It was previously reported by Scott Braddock, editor of the Quorum Report, that Lt. Gov. Patrick, who leads the upper chamber, intends to shift the Republican majority in the Texas Senate from 18-13 to 21-10 based on these new proposed district lines.