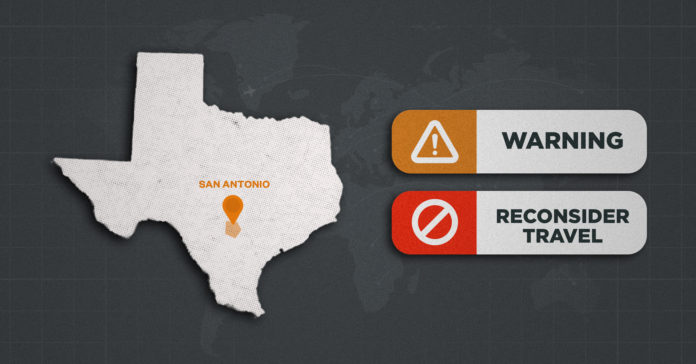 San Antonio is being called a "sundown town" by the Defund SAPD Coalition, which is warning Black residents and visitors about police policies they say put Black people in danger.
The group has four advisory levels for characterizing the danger of staying out past dark. Blue means to exercise normal precaution. Yellow signifies the need for increased caution. Orange suggests reconsidering travel plans to the city. And Red recommends avoiding the city altogether. A Twitter post from the group indicates the current advisory level is orange.
The advisory does not represent an official government announcement.
"It is clear San Antonio is becoming a sundown town for Black people. We aren't safe, and what happened in Kenosha, Wis. can definitely happen here," said Camille Wright, a San Antonio community organizer.
A petition from the coalition says, "We don't need excessive force used against the youth protesting police brutality, the racial injustice of the lives lost of black and brown bodies. Why should SAPD have more funding than the residents who have no, or poor quality of housing, health care and food distribution." 
The petition calls on the city council "to listen to the voices of the disenfranchised." The coalition's petition also demands more funds to be invested in communities and programs that benefit the livelihood of those living in San Antonio.
Today on Twitter, the group tweeted about the death of Damian Lamar Daniels, who was shot to death during a struggle with deputies in August.
"Today Bexar County will vote on their budget and it's a great day to demand justice for a veteran in Military Town, USA," the tweet said.
The term "Sundown Town" dates back to racial segregation, when signs posted in towns would threaten Black people that there would be violence if they didn't leave the area by sundown.