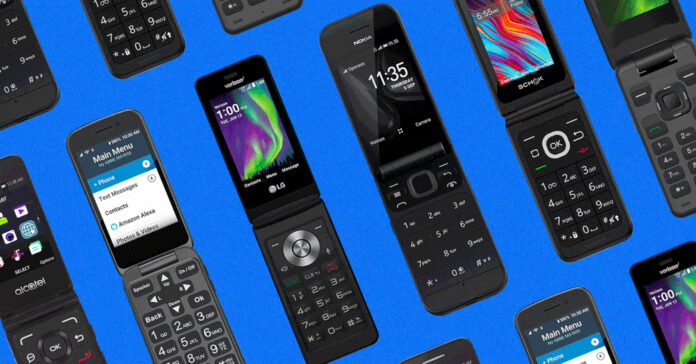 It seems Gen Z has an obsession with anything retro and Y2K fashion. From bringing back low-rise jeans and layered tank tops, to purchasing retro accessories and imitating iconic red carpet moments from the 2000s. The new generation is yearning for a time machine.
Millennials don't seem to have any objection with these new trends, on the contrary they are welcoming them with open arms. Especially the return of the iconic Motorola Razr device.

26-year-old Amber Giesen, social media manager from Amsterdam, bought herself a pink Razr on eBay for a Y2K party she was throwing back in May. In her TikTok video, she shows off it's two-megapixel camera and the limited array of games, while playing "Toxic" by Britney Spears, as reported by Mashable.

The flip phone craze has only incremented since the launch of the Samsung Galaxy Z Flip 3, in August 2021. Making everyone from Gen Z to Millenials a little nostalgic for the pre-social media era. So much so that the "flip phone" tag is currently trending on TikTok, where you can find hundreds of videos like Giesen's.

According to Mashable, the Digital Fairy, a creative agency with internet and youth culture specialists, recently coined the term "vintage tech nostalgia" on TikTok, where they examine the "fall of the Apple aesthetic" among teens and young adults.

In conclusion, minimalist tech is out and Gen Z is ushering in a new, recycled era of bold, customizable products and busy vaporwave visuals.

"Aesthetically, flip phones are a lot more exciting than today's slick smartphones," Biz Sherbert, a culture specialist at The Digital Fairy, told Mashable over email.

But could this trend be more than just about aesthetics? Young people are suffering from a social media overload, and are yearning to disconnect and 'detox' from so much screen time. This makes a more analog existence appealing to them.

As one TikTok advises, "This is ur sign to get a flip-phone for summer and to take a break from toxic social media <3."

Mashable interviewed Nicky Shapiro, a 23-year-old UC Berkeley graduate and proud owner of a modern AT&T Alcatel SmartFlip Phone. Shapiro claims he is not addicted to social media, but is definitely addicted to his iPhone and feels a strong desire to break that bond and disconnect.

"I constantly feel its presence in my pocket. I just reach for it for no reason, I am not even checking the time. I felt a complete reliance and addiction to it," he said.

In a society that functions with QR codes, Venmo apps, and Home Office jobs, it's a pretty untenable idea to switch completely to just a flip phone. Shapiro admitted you would have to be in an extremely privileged situation to actually pull off living with a flip phone full time.

Gen Z is attracted to a full flip phone life because of the throwback aesthetics, they romanticize old romantic comedies like 10 Things I Hate About You, and wish to live in a time where Instagram followers and Likes on a TikTok post weren't the most important things.
And even though living full time with a flip phone would be a logistical nightmare in modern times, imagine what you could do with all the time you spend looking at your phone.

Maybe Gen Z is onto something. Giesen hopes that the flip phone trend catches on."It would be really nice and beneficial for people to just log off for a bit and live in the moment."