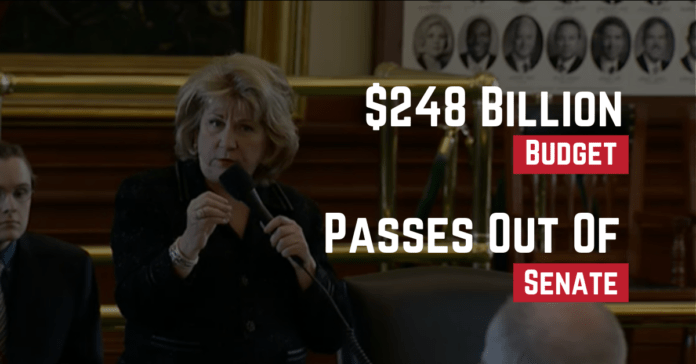 AUSTIN, TX – The Texas Senate resoundingly passed a $248 billion budget Tuesday after nearly 3 hours of civil discussion, compared to the 11 hours-long debate in the House on the budget and the members' 287 amendments.
Lawmakers proposed no amendments to the spending plan, but expressed their hope that concerns would be addressed in the conference stage of the bill process.
The budget passed unanimously on the final vote. The legislation, House Bill 1, will now head to a conference committee held by both chambers. The membership of the conference committee is comprised of ten members, and is expected to include six Republicans: Sens. Jane Nelson (R-Flower Mound), Paul Bettencourt (R-Houston), Larry Taylor (R-Friendswood), Reps. John Zerwas (R-Richmond), Dustin Burrows (R-Lubbock) and Dan Huberty (R-Humble).
Senate Finance Committee Chair Jane Nelson introduced the committee substitute for House Bill 1, voted out of committee last week, to the Senate body.
Public Education
A noticeable development in the committee substitute compared to the Senate's base budget is $9 billion for public education above enrollment growth, matching the amount the House wants to spend since the beginning of session.
Previously, the Senate offered only $6 billion for public education in their base budget, with $3.7 billion allocated in teacher pay raises and $2.3 billion in property tax relief and reducing the reliance on recapture, also known as "Robin Hood." Nelson said the additional $3 billion for public education came from adding librarians to the $5,000 pay raise, its associated TRS costs, and $2.3 billion for the Senate's as-of-yet unspecified school finance plan.
Like the House's version of school finance reform, state funding for dual language and compensatory education weights is increased in the formula. This includes incentives for school districts to switch from bilingual to dual language programs because the latter is more effective, according to Taylor.
The Senate's budget also includes $55.5 million in special education grants and funding for more than 50 full-time employees in TEA who will work on the agency's Corrective Action Plan. This will put Texas back in full compliance with federal laws on special education funding. Taylor suggested information on how much special education funding should be increased might come out of future budgets.
Senate Bill 11, which looks at all sorts of prevention measures, will address how counselors are funded, Taylor said.
Health and Human Services
Senator Lois Kolkhorst (R-Brenham), aimed to clear the misconception that the Senate's budget is making cuts to Medicaid. While conceding General Revenue (GR) and GR-dedicated funds are down in this budget compared to the previous biennium, Kolkhorst said the total amount of funds going to Medicaid is greater because of an increased federal match, amounting to $84.8 billion, an increase of $1.2 billion.
The Federal Medical Assistance Percentage (FMAP) used to determine matching funds is calculated by analyzing the state's per capita income relative to the rest of the US. If Texans are making less on average than other states, than there is a higher FMAP match rate.
While there is an increase in total funding for Medicaid, the Senate's budget creates an IOU because, like the House, it does not fund per-client medical cost increases in the upcoming biennium.
The Senate budget fully funds AIM maternal safety bundles, which are best practices for hospitals to reduce maternal mortality, a policy started in California, said Kolkhorst. About $385 million will go towards women's health programs, which, according to Nelson, is the most the state has ever appropriated for the programs. On the Senate floor, Nelson erroneously professed the programs are serving more women than ever before.
To address a growing issue of rural hospitals closing obstetrics units, the Senate's budget contains additional money via Medicaid for labor and delivery. Kolkhorst suggested work on rural hospitals would come from bills yet to pass.
Growth of spending for Health and Human Services in the budget and how it is beginning to "crowd" out other priorities was addressed by both Nelson and Kolkhorst. A cost containment provision of the Senate's budget was discussed, which instructs the state health agencies to find at least $350 million in cost savings each year.
A big increase increase in funding for mental health care, to the tune of $100 million, included a $59 million increase capacity for out-patient care and $5 million for victims of family violence. Funding for the rape kit backlog, a priority of the Governor and Lt. Governor, was also included.
An additional $137 million would be utilized to in an effort to reduce the number disabled people on waiting lists to get access to health care and other government benefits.
Hurricane Harvey Relief and Disaster Preparedness
While the lion's share of funding for Hurricane Harvey relief comes out of the Senate's supplemental $3 billion appropriations bill, Nelson said the Senate's budget also includes funding for disaster relief.
School districts affected by Harvey will get $636 million, with $3.5 million allocated towards detailed strategic mapping, $400,000 for air monitors at TCEQ, and $1.5 million for 10 full-time employees at a disaster team in the General Land Office to build "institutional knowledge", according to Sen. Robert Nichols (R-Jacksonville).
"Because of our strong economy… we have the revenue we need … [to put forward a] "compassionate, responsible and forward-thinking budget," said Nelson.
Nelson addressed concerns from Sen. Bob Hall (R-Edgewood) and certain groups about whether the Senate is being conservative with its spending, saying $1 billion would be left in the treasury and $11 billion in rainy day fund after this budget.