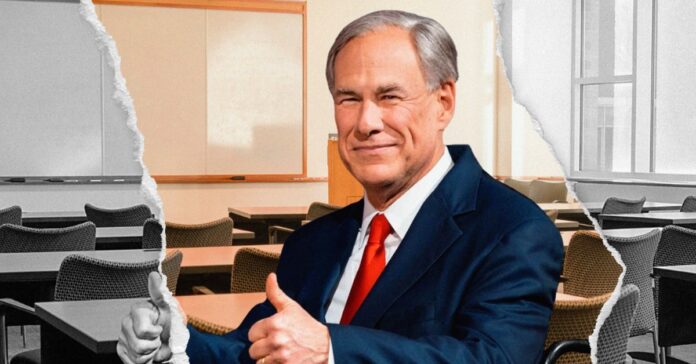 After realizing that the votes for vouchers aren't there in the Texas House, Gov. Greg Abbott has stirred controversy by threatening to veto a scaled-back version of a school voucher bill and proposing a special session in September to address the issue.

In a recent statement,  Abbott expressed his unwavering commitment to empowering parents to choose the best educational path for their children. While the Senate's version would make approximately 5.5 million students eligible, the latest House version would extend eligibility to only about 800,000 students, thereby falling short of Abbott's expectations. 
Abbott said he believes this version does not go far enough in providing school choice options for the state. "Parents and their children deserve no less," he said in the statement.

While Abbott's statement did not mention when the special session would take place, multiple GOP sources told the Quorum Report, he is "privately floating" the idea of holding the special session during September.

The move has raised concerns about the limited involvement of teachers and staff in opposing the legislation. Opponents of vouchers argue that scheduling the special session during the regular school year would limit the ability of teachers and staff to actively participate in the lobbying and advocacy efforts against the bill.

Teachers and education advocacy groups have expressed frustration over the proposed September special session, asserting that it deliberately aims to minimize their involvement in opposing the legislation. Texans for Public Education, in a tweet, highlighted the teachers' concerns regarding their limited ability to actively engage and voice their opposition to the bill during the school year.

"If true, waiting until September is a cowardly avoidance of teachers by waiting until the school year starts. Come on, little man! Face us! Hold your session in June/July!" said the tweet. 
The fate of the school voucher bill, particularly in its scaled-back form, remains uncertain. The initial proposal, which included education savings accounts for most K-12 students in Texas, faced substantial resistance in the House. Even the latest version, introduced by Senator Brandon Creighton, which limited eligibility to students with disabilities and those attending low-performing campuses, encountered skepticism. Representative Brad Buckley's modified version attempted to strike a balance but failed to gain significant traction.
Abbott's push for a September special session reveals his acknowledgement of the difficulties he faces regarding vouchers. The timing choice suggests a recognition that support for his agenda may not be growing as he claims, and the avoidance of the summer period raises concerns about his strategy, showing there is still an uphill battle for his proposed legislation.