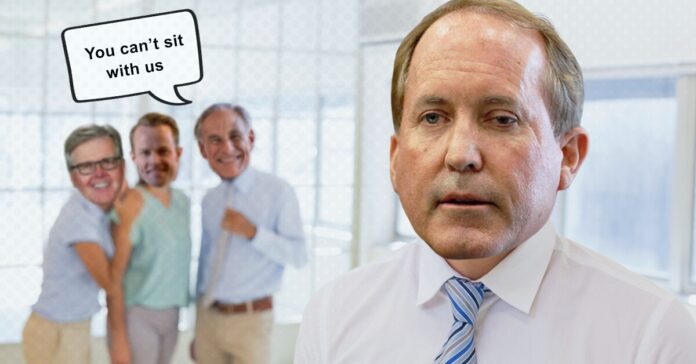 Despite a solid base of support from conservative Texans, Republicans continue to turn their backs on Attorney General Ken Paxton.
Paxton has been under indictment for securities fraud since 2015, though that has not hurt him when it comes to getting elected or re-elected. In addition, he is currently under federal investigation for misuse of office related to alleged favors he did for high-powered donors.
That latter case has one of Texas's most powerful Republicans chiding Paxton. Speaker of the Texas House Dade Phelan has stated that the taxpayers should not be on the hook for the $3.3 million settlement that Paxton reached with the whistleblowers in his office. Eight former employees reported him for misuse of office to federal authorities, and in response Paxton fired them.
"Mr. Paxton is going to have to come to the Texas House, he's going to have to appear before the appropriations committee and make a case to that committee as to why that is a proper use of taxpayer dollars," Phelan said in an interview with CBS DFW last week. "And then he's going to have to sell it to 76 members of the Texas House. That is his job, not mine."
The settlement is just part of the $6 million that Paxton has cost Texas taxpayers in legal defenses, frivolous lawsuits, and other legal shenanigans. Paxton and First Assistant Brent Webster testified on Tuesday to the Appropriations Subcommittee that his office has brought in around $1 billion in revenue for the state over the last two years.
However, several members still questioned the cost of some of Paxton's legal fights, particularly one against Google for supposedly discriminating against conservatives in search engine results. The lawsuit has drawn in other red states, which Democrats on the committee accused Paxton of paying for. State Rep David Spiller (R-Jacksboro) also wanted more details from Paxton regarding how these other states would pay Texas back.
Even with these admonishments of Paxton from Texas Republicans in the House, Paxton is likely to maintain the support of the far right thanks to his ongoing culture wars over the election fraud myth, trans people, and immigrants. The AG was categorized as the most vulnerable Republican incumbent in the 2022 midterms, but sailed to a win over his challengers and handily won in the general.
Texas Observer tried to find out if any rank-and-file Republicans had turned their backs on Paxton in the lead up to the November election. Speaking to attendees at the Conservative Political Action Conference in Dallas, most of the people who would answer lauded Paxton for his conservative ideals and claimed the legal proceedings and investigations against him were part of a liberal conspiracy.
Nonetheless, it does appear that Republicans may be at least getting tired of paying for Paxton's legal follies and stunts. If the cost of his legal crusades and alleged misdeeds starts to come due from his own pocket, it might hamper his ability to launch other moral crusades or conspiracy-driven endeavors.