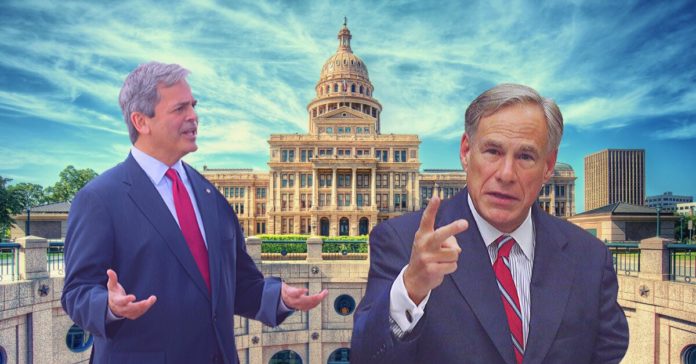 Texas Gov. Greg Abbott continues his war with the Austin homeless population.
The public feud is yet another battle in the ongoing war between state and municipal governments. Recently, the standoff between Abbott and the Austin homeless population has reached a new level of animosity.

For months, Gov. Abbott has been vocal in his opposition to the City of Austin's leadership and recently implemented homelessness policies, a practice that's led to a public spat between him and municipal decision-makers in the state's capital city.

It all started when Austin's city council decided to relax the camping restrictions for those experiencing homelessness. Previous ordinances made it illegal to sit, camp, or lie down in public, but new regulations made blocking pathways the only ticketable offense. The city council also decriminalized non-aggressive panhandling.

The new rules went into effect July 1st, 2019, despite Abbott's earlier tweet threatening that the state would come in and overrule local ordinances that allowed camping on city streets. Austin Mayor Steve Adler and city council members stand beside the passed ordinance, stating that all Austin residents deserve assistance and benefits.

The war of words was reignited this weekend when Abbott retweeted a video in which a man throws signs at cars in Downtown Austin as an example of the city's failed policies. But the video was recorded in 2018 before laws had changed, which Mayor Steve Adler pointed out in a tweet reply.

This started another circus of back and forth political jabs, some added below.
Advocates worry that the real subject of concern, the Austin homeless population, is forgotten in these public debates, which become more about winning political points and less about solving the problem.

In the case of the video in question, the man in the video is not homeless, according to his family. The man's representative, Attorney Krista Chacona, spoke with CBS Austin regarding the contents of the video. She said the return of the video is re-traumatizing as her client "suffers from mental illness and intellectual and developmental disabilities."

Chacona also said that mental health resources need to be addressed. "It is a real problem because you can't be stable on the street." She goes on to say that having meds on the street maybe just as dangerous as not having them, as they subject people to assault, theft, or other types of harm. Chacona calls on the state to provide more resources local entities can utilize.

Ultimately, people need help. It comes down to protecting the citizens, which also includes the people who are hurting others. Those in the homeless crisis deserve respect and attention. Whether or not you agree with how that is being tackled, the root causes of homelessness should be the targets of discussion. If we're going to claim to offer assistance as a state, we need to really make mental health a priority for Texas.