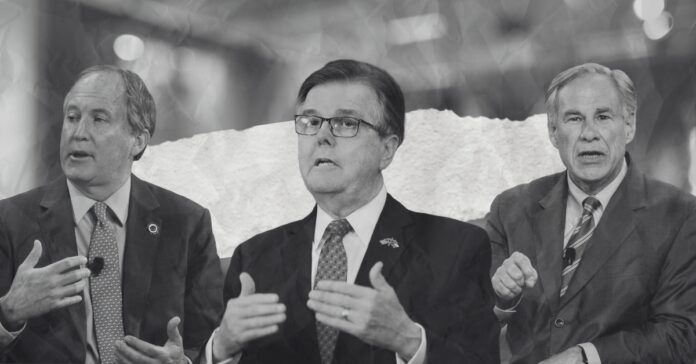 The odds of Attorney General Ken Paxton being convicted in his impeachment trial starting September 5 are long thanks to many factors that have nothing to do with the evidence that will likely be presented. The far-right Texas Republican machine has swung into action to protect Paxton at all costs.
Paxton is only the third state official to ever be impeached in Texas. He was overwhelmingly impeached by the Texas House on charges of abuse of office related to wealthy donor Nate Paul and other related crimes. Paxton, who has never been that friendly with the Texas legislature, has framed the impeachment as a politically motivated witch hunt led by Speaker Dade Phelan.
The legal woes of the attorney general are legion. On top of his impeachment, he is finally looking at a court date for the indictment for securities fraud he was handed eight years ago, and the federal government is also looking into his finances. Despite all this, Paxton easily won re-election in 2022.
Bribes, threats, and math are on Paxton's side, as Mimi Schwartz of Texas Monthly diligently lays out.
Bribes
Because the trial is taking place in the Texas Senate, Texas Senators and Lt. Governor Dan Patrick will be the jury and judge. As the trial starts after the moratorium on political contributions has ended, Interested parties are all legally able to drop money in the campaign accounts of politicians.
The money is already rolling in. Patrick received $3 million from the Defend Texas Liberty, bankrolled by long-time Paxton supporters like oil and gas moguls Tim Dunn and Farris Wilks. The PAC has made it very clear that they expect to use their money to move the needle.
""Defend Texas Liberty will ensure that every Republican voter in Texas knows just what a sham the Texas House has been this session and just how absurd this last minute Democrat led impeachment effort is," the group tweeted in May.
Threats
Which leads to the threats portion of the discussion. Texas Republicans do not generally have to worry about Democratic challengers. The primary is where the real battle is fought, and over the last several cycles that fight has become vicious.
Texas Republican far-right groups have a long history of attacking any dissenters with primary challengers. Granted, in practice this has mixed results at best, but it's enough to put any senator thinking about conviction on their guard. Paxton is widely seen as an anti-Democratic crusader, and remains popular with the far-right wing of the party. Angering that wing could spell doom for a state senator vulnerable to attacks from the right.
Math
But as always, the final boss is math. There needs to be two-thirds of senators willing to convict. If every Democrat votes to do so, they will still need some Republicans. It should be eight. Paxton's wife Angela has been barred from voting as a state senator, but she still counts for the purpose of determining the majority.
Nine Texas Republican Senators willing to remove a popular attorney general is a tall order. The upper chamber has been by far the most extreme-right portion of the legislature over the last several years. Many of the senators are still reeling with protracted fights with the House over school vouchers and property taxes, so they aren't liable to look kindly on the impeachment officers anyway.
No matter how blatant the crimes or solid the evidence presented, Paxton has a very good chance of returning to work as attorney general.