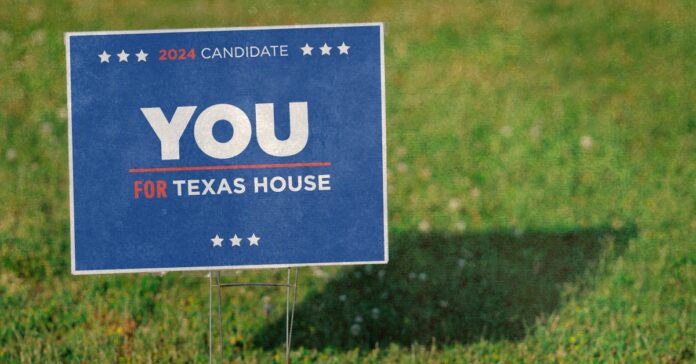 As the fight over school vouchers continues into the special legislative sessions, a PAC allied with Governor Greg Abbott is looking to primary opposition to the measure in the Texas House.
According to screenshots of text messages acquired by Reform Austin, the Texas branch of the American Federation for Children PAC is actively recruiting candidates to run in 2024. The American Federation for Children PAC is a major donor to Governor Greg Abbott ($61,747 in his last election. In addition, the PAC is backed by Betsy DeVos, former Secretary of Education under Donald Trump, which has been systematically trying to funnel public tax dollars into private, mostly religious schools, for two decades. The DeVos family is also a major donor to Abbott, contributing more than $200,000.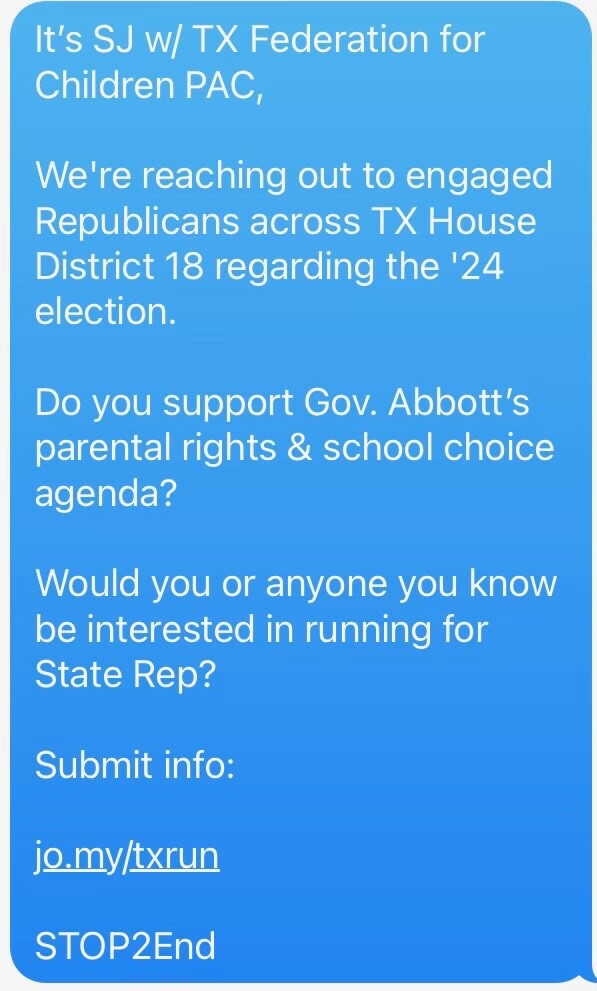 Among the targets is State Rep. Ernest Bailes (R-Shepherd). One of the rural Republicans who fears a voucher program would gut funding for schools that are the lifeblood of country communities, Bailes is among those who have been questioning the path of vouchers in the lower chamber. In May, he helped shut down a vote on the bill because he said it hadn't received proper public hearings, an act that sent it back to committee.
"This is not the right way to do this," he said at the time. "Our kids matter in the state of Texas. And they are better than backroom, shady dealings, which is what this is right here."
Also in the crosshairs is Glenn Rogers (R-Mineral Wells). Rogers has been one of the loudest voices on the right against vouchers. Rogers wrote a blistering op-ed in the Brownwood News. In it, he dissected many of the talking points that have been used to try and sell the vouchers, especially the idea that they will not defund public schools.
"Considering these schools are private or charter, the State of Texas would be funneling money into organizations with little accountability," he wrote. "Private schools do not have to comply with the same transparency standards as a traditional public education. Once these private entities start receiving public funds, the line between private and government regulation begins to blur. Parents who choose private or homeschool education for their children expect a certain level of independence in their education. School boards members are elected and held accountable by the ISD residents, the salaries of superintendents are made a public record by the Texas Education Agency, and all instructional materials are reviewed by an elected State Board of Education. Voucher programs would destroy that independence and create a less transparent education system."
Passing vouchers has been a major priority for Abbott, who went on a tour to promote the idea earlier this year. With the involvement of the American Federation for Children PAC, it appears he is turning up the heat on his opponents in the House with threats of a primary challenge.
Despite the bundles of cash, Rogers and Bailes probably don't have anything to worry about from the governor's ire. Abbott has repeatedly tried to bully people in his own party who are roadblocking his agenda, and in almost every case it has been an abject failure.