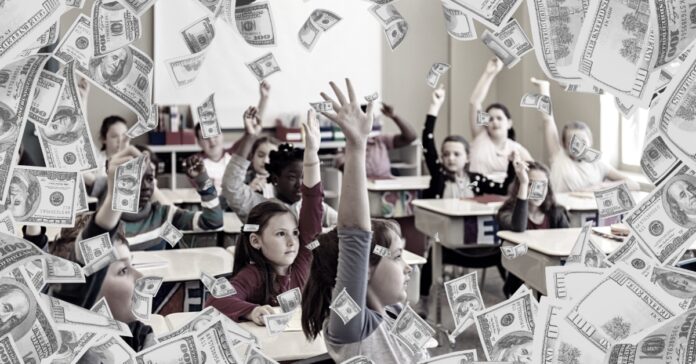 One debate happening in the state legislature this session is exactly how to give more money to Texas schools. One increasingly popular plan is simply raising the basic allotment per student, which has bipartisan support.
Texas is sitting on nearly $30 billion in extra tax revenue this session. While Governor Greg Abbott is keen to spend some of it on a property tax rebate, there seems to be a near-universal consensus that a sizable chunk should make it into public school coffers and teacher salary increases. There are two ways this could go.
The first is completely changing the way that allotments are calculated. Currently, Texas schools get $6,160 per student. However, the "per student" part is based on physical attendance. The way people send their kids to school has dramatically changed since the start of the COVID pandemic. Parents are much more likely to keep their children home when they or their classmates are sick. In some cases, this has dropped attendance by three or more percentage points, which quickly adds up to millions of dollars. Some smaller districts like Pflugerville ISD are considering school closures to make up the deficit, mostly in poorer neighborhoods with more ethnic minorities.
State Rep. Gina Hinojosa (D-Austin) has filed House Bill 31, which would change the formula to one based on the previous year's total enrollment. It would have the advantage of not punishing districts when their students aren't at school. Hinojosa believes her bill would cost the state $5 billion in the next cycle.
Hinojosa's proposal has fans among educators, but not so many in the legislature. Instead, lawmakers like State Rep. Gary VanDeaver (R-New Boston), who is on the House Public Education, think the state should simply raise the allotment amount and keep the same system. While it wouldn't address the overall problem of tying funding to attendance, thereby encouraging unsafe behavior when it comes to contagious illnesses, it would definitely pump more cash into the school system.
There are several bills that would do this, and according to VanDeaver they have a better chance of passing. House Bill 1107, filed by State Rep. Vikki Goodwin (D-Austin) would raise the allotment to a flat $6,500. State Rep. Donna Howard (D-Austin) and State Se, Nate Johnson (D-Dallas) would raise it to $7,075.
Meanwhile, State Rep. Charlie Geren (R-Austin) has filed House Bill 1304, which takes a more long-term approach. Though it would also require the passage of HJR 76 and ultimately the Texas voters, it would establish a basic 50 percent maintenance and operation funding level to be determined every year. This would keep the funding allotment a priority every session.
At the moment, it doesn't look like there is any legislative stomach for redoing the attendance system. A change to allotment amounts seems far more likely that comprehensive reform. With the state sitting on so much extra money at the moment and schools struggling with finances after COVID, some investment in school funding is desperately needed. A major change doesn't appear to be on the table, but schools will likely take what they can get if it helps them keep the doors open.