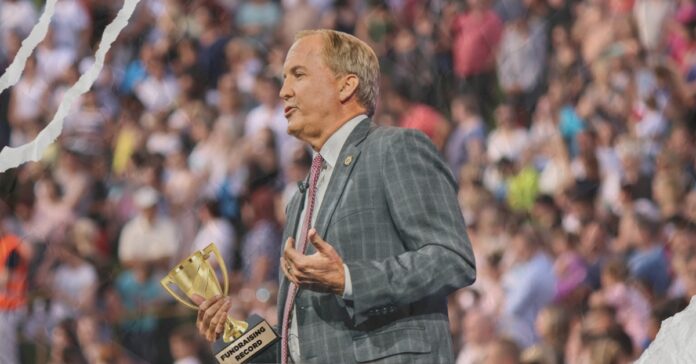 Suspended Texas Attorney General Ken Paxton is boasting his "personal best fundraising" haul of $1.7 million since his impeachment in May.

After the regular legislative session, during which elected officials are prohibited from fundraising, Paxton's campaign experienced a significant surge in fundraising – despite facing allegations of corruption and an ongoing battle for his removal from office.

His campaign has garnered support from over 1,500 donors, resulting in a total cash on hand of $2.7 million. Notably, several influential donors, including figures from far-right conservative circles, continue to contribute to Paxton's campaign, demonstrating their unwavering support, as reported by The Dallas Morning News.

Encouraging his supporters to contribute, Paxton has capitalized on his impeachment, appealing for even small donations. In a defiant statement, Paxton expressed his commitment to fighting against "Texas liberals and big government politicians," vowing to emerge stronger from the current adversities.

"Each battle I face I have been amazed and grateful for the support I have received from everyday Texans. Not only will we survive this latest attack but we will come out of this stronger than ever," Paxton said.
Noteworthy among Paxton's top donors is Gary Heavin, the founder of Curves International and a prominent GOP megadonor, who contributed a substantial amount of $500,000. Doug Scharbauer, an investor and horse racer from Midland, followed with a generous donation of $250,000. Three Midland oilmen—William Holmes, Kyle Stallings, and Tim Dunn—each contributed $100,000. Stallings and the Deason family, known for their involvement in Dallas' Deason Capital, were also among the top ten contributors to Paxton's wife, Angela Paxton, who represents Collin County in the Texas Senate.
These eight major donors collectively account for nearly 75% of the funds raised by Paxton during this period, which concluded on June 30.
The impeachment of Ken Paxton by the Texas House was based on allegations of power abuse, obstruction of justice, and overall unfitness for office. Subsequent investigations have delved into Paxton's connection with a firm that secured a lucrative state contract, as well as the financial affairs of the Paxton family's personal and campaign activities. The Senate is scheduled to hold a trial in September to determine Paxton's fate.