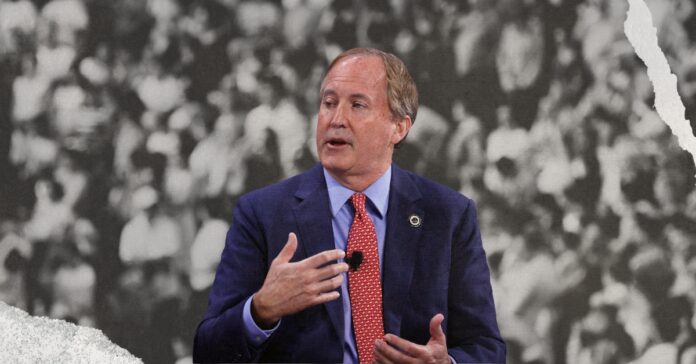 The wheels of bureaucracy can be cruel when you're a public official impeached for bribery and abuse of office, as suspended Attorney General Ken Paxton is finding out. The Texas Comptroller is refusing to pay Paxton while he is off duty awaiting trial on September 5.
"The General Appropriations Act provides funding to the OAG to pay one exempt position, titled Attorney General, at a rate of $153,750 annually. There is no authority or funding for your agency to pay both Provisional Attorney General (John) Scott and Attorney General Paxton simultaneously," said Rob Coleman, director of the comptroller's fiscal management division in an email obtained by The Dallas Morning News.
Paxton's Chief of Staff has argued that the Texas constitution says nothing about withholding pay from a public official under impeachment, which is true. However, Texas Comptroller Glenn Hegar feels he has the authority to do so since his budget only has a line item to pay one Attorney General at a time. Since John Scott is currently filling the seat, he gets the paycheck, roughly $12,800 so far.
As Paxton is only the third Texas official in the state's history to be impeached, there isn't much precedent on whether the comptroller is able to withhold the salary, though Hegar clearly believes he does. If Paxton is acquitted and re-instated, he may be able to sue for backpay, though that will be equally untested legal waters.
Paxton was overwhelmingly impeached by the Republican-controlled Texas House of Representatives in May for bribery and abuse of office. He is accused of mishandling funds and shielding a wealthy donor and friend, recently arrested Austin real estate mogul Nate Paul, from investigation.
The matter is separate from Paxton's eight-year-long indictment for securities fraud that has shadowed his time as the state's top law enforcement official, and the federal investigation into his firing of whistleblowers in his office. Paxton's lawyers have repeatedly called the impeachment a sham that is politically motivated by Democrats despite a significant chunk of Republicans voting to remit him to trial.
Despite his legal troubles and robust conservative primary challenges, Paxton was easily re-elected in 2022. However, he may be having money troubles. He currently owes Lt. Governor Dan Patrick, the man who will oversee his trial in the Texas Senate, $125,000 in campaign loans. It's probably a rough time for Paxton to be without his paycheck.
The pay for the entire attorney general's office, roughly 4,000 employees, was briefly held up while the matter of Paxton's paycheck was debated. They were subsequently paid when the payment request to the comptroller's office was resubmitted with Paxton's request separately.
"Our office is prepared to work with you to ensure staff at the OAG receive their timely and accurate salaries," read another email from the comptroller's office to Paxton's chief of staff. "However, any further submission of a salary payment for Attorney General Paxton, while he is in a suspended status, will be held and not processed through our statewide systems using state appropriated funds."