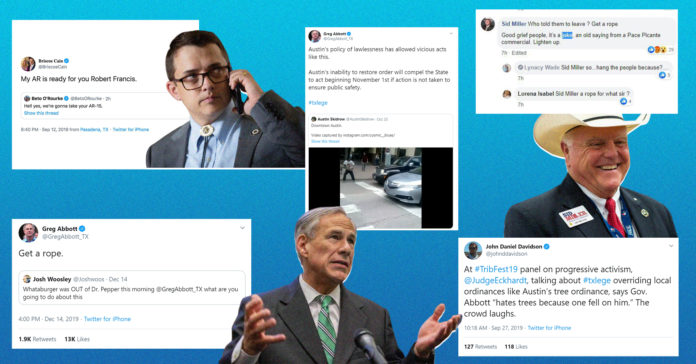 Some Texas public officials have a foot-in-mouth problem, and this year provided plenty of examples.

Below, in no particular order, some of the most outrageous things Texas politicians have expressed in 2019.
Get the Rope (canned laughter)
Who knew a joke from a Pace Picante commercial released in 1992 would still be getting mileage 27 years after it first aired?

Sid Miller, the current Texas' Agriculture Commissioner, found himself in hot water earlier this year with a Facebook comment supporting The Sons of Confederate Veterans:

In response to a Facebook post lamenting the group not being able to participate in Stephenville's Veteran's Day Parade while flying Confederate flags, Miller wrote, "Who told them to leave? Get a rope."

Despite backlash in 2018 regarding this very phrase, this was not the last we heard of the joke from Texas leaders this year. Gov. Greg Abbott, in response to a tweet asking him what he would do about a Whataburger location that ran out Dr. Pepper, used the infamous line again and tweeted back, "Get a rope."

In response to critics, the governor said, "Lighten up dude. It's a line ripped off of the Pace Picante Get A Rope Commercial."

For many Texans, there's nothing "mild" about phrases that could be construed as lynching jokes.

She took an axe to that joke

During a panel discussion on the Legislature overriding local ordinances at the Texas Tribune Festival, Travis County Judge Sarah Eckhardt said Governor Abbott "hates trees because one fell on him." Abbott has been paralyzed from the waist down since 1984 when he was impacted by a falling tree.

Eckhardt later apologized for the "inappropriate" and "flippant" comment.
Rick Miller safely won't be seeking re-election
In an interview with the Houston Chronicle, four-term Republican state representative Rick Miller (R- Sugar Land) lost his chance for re-election when he was asked to speak to his opponents in the race. Using language that Miller later said was "insensitive and inexcusable," Miller stated that two of his opponents in the race were only running in the primary because they were "Asian."

This prompted several of his fellow Republicans to speak out against him and for Abbott to rescind his endorsement. Due to his comments, Miller pulled out of the race, stating: "I do not want to be a distraction for my party or my constituents, and therefore I have decided not to seek re-election."

Didn't anyone ever tell you? You don't put death threats in writing.

Republican state representative Briscoe Cain achieved national attention following a controversial response to a tweet posted by previous Democratic presidential candidate, Beto O'Rourke. When O'Rourke tweeted, "Hell yes, we're going to take your AR-15, your AK-47," Cain responded, "My AR is ready for you Robert Francis."
Don't believe everything you see on the internet

In a response to Austin's new ordinances that placed fewer restrictions on the homeless population, Gov. Greg Abbott voiced his disdain by retweeting an old video of a man having a mental breakdown in downtown Austin. The man, who was not—nor had ever been—homeless, and despite the man's attorney saying that the governor's public tweet was "retraumatizing" for the man and his family, Abbott has left the tweet up on his account.