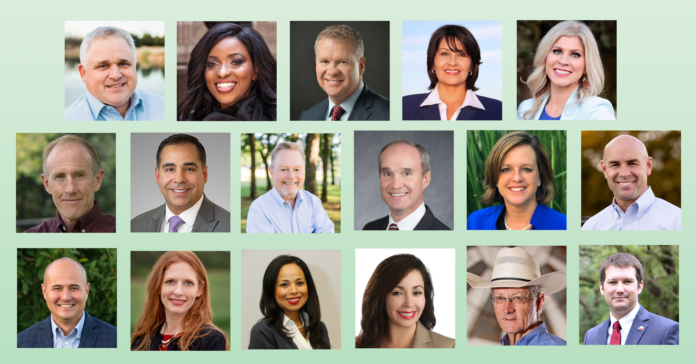 First in an occasional series
The 87th session of the Texas Legislature welcomed 21 new members last month, with 17 members sworn into the Texas House and four members sworn into the Texas Senate for their first sessions. There will be another freshman for the House once the winner is decided in the Texas House District 68 Special Election Runoff expected in February.
These freshmen face a difficult task: legislating during a pandemic and an economic crisis, needing to resolve a $1 billion deficit in the state budget and redraw political maps.
Here are the freshmen legislators Reform Austin will be tracking this 140-day session, though a few are only new to the role, not new to the Legislature.
Texas House
HD-002: Bryan Slaton (R) replaced incumbent Dan Flynn
HD-010: J.K. "Jake" Ellzey (R) won the open seat after former State Rep. John Wray retired
HD-025: Cody Vasut (R) won the open seat after former Speaker Dennis Bonnen retired
HD-026: Jacey Jetton (R) won the open seat after former State Rep. Rick Miller retired
HD-028: Gary Gates (R) won the open seat after former Chairman John Zerwas retired
HD-059: Shelby Slawson (R) replaced incumbent JD Sheffield
HD-060: Glenn Rogers (R) won the open seat after Mike Lang resigned to run for Hood County Commissioner
HD-068: Winner of the runoff election to fill Sen. Drew Springer's old seat
HD-074: Eddie Morales Jr. (D) won the open seat after Poncho Nevarez retired
HD-076 Claudia Ordaz Perez (D) won the open seat after Blanco resigned to run for Senate
HD-092 Jeff Cason (R) won the open seat after Jonathan Stickland retired
HD-096 David Cook (R) won the open seat after Bill Zedler retired
HD-100 Jasmine Crockett (D) won the open seat after Eric Johnson retired; defeated Lorraine Birabil the primary runoff
HD-119 Liz Campos (D) won the open seat after Gutierrez resigned to run for Senate
HD-132 Mike Schofield (R) former state representative who lost to Gina Calanni in 2018 but won reelection in 2020
HD-134 Ann Johnson (D) defeated incumbent Sarah Davis
HD-138 Lacey Hull (R) won open seat after Dwayne Bohac retired
HD-148 Penny Shaw (D) won the open seat after Jessica Farrar retired; defeated Anna Eastman in the primary runoff
Texas Senate
SD-10 Sarah Eckhardt (D) former Travis County judge; won the open seat left by retiring Kirk Watson
SD-19 Roland Gutierrez (D) former state representative; defeated incumbent Pete Flores
SD-29 César J. Blanco (D) former state representative; won the open seat left by retiring Jose Rodriguez
SD-30 Drew Springer won the open seat left by Pat Fallon; defeated Shelley Luther in the senate runoff election