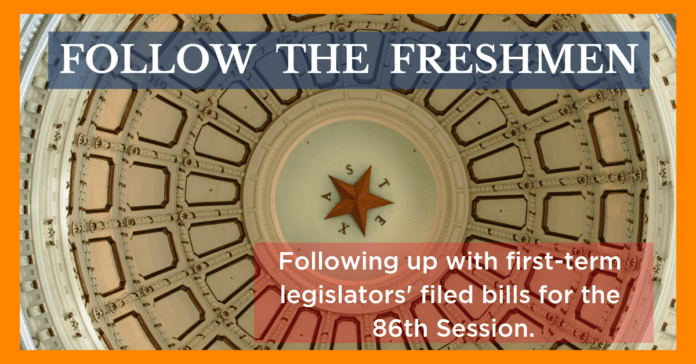 Fourth in an ongoing series
The 86th session of the Texas Legislature welcomed 34 new members in January, with 28 members sworn into the Texas House and six members sworn into the Texas Senate for their first session. Since then, State Representative Art Fierro (D-El Paso) has been sworn in and two House seats are still open pending results of runoffs in San Antonio's House District 125 and Houston's House District 145.
With most new members having now been in office for two months and the March 8 deadline to file bills nearing, many have introduced legislation. So far, 324 bills have been introduced by 27 freshman House members, while 135 bills have been filed by six freshman Senators.
House Freshmen
In the Texas House of Representatives, Terry Meza (D-Irving) leads the pack of freshmen, introducing 31 House Bills, including bills on campaign finance reform and employment leave for family or medical obligations. Meza filed 27 bills in the last month.
Other new members, however, including Carl Sherman, Jr. (D-DeSoto), and Art Fierro (D-El Paso) have yet to introduce any legislation. Nine members in the House who had not introduced bills a month ago have since collectively introduced 50 bills.
On average, freshmen legislators in the House filed 9 bills in the last month and 11 in the last two months.
From the Democratic freshmen in the Texas House, Jon Rosenthal (D-Houston) and Leo Pacheco (D-San Antonio) have filed legislation to tackle some of Texas' most pressing issues. Rosenthal filed HB 1913 to address the high rate of the uninsured in Texas by expanding Medicaid.
Rep. Pacheco has introduced 18 pieces of legislation, including sole authorship of 18 bills and joint authorship of another bill. He filed House Bill 1336, which raises the minimum wage in Texas to $10.

For the Republican House freshmen, Ben Leman (R-Anderson) and Cody Harris (R-Palestine), have filed the newest pieces of legislation. Rep. Leman filed 16 new bills including House Bill 1991, which allows alternative assessments for high school students for use under the public school accountability system.
Rep. Harris also introduced 13 new pieces of legislation, several of which concern high-speed rail projects. Throughout his campaign, Harris promised voters he will stop the planned rail project between Houston and Dallas. One of his bills, House Bill 1369, would require any private entity in charge of a high-speed rail project to acquire all property necessary for the project before beginning construction.
Senate Freshmen
In the Senate, Pat Fallon (R-Prosper), a former State House Member, leads his fellow freshmen again with 37 new Senate Bills introduced, including on TRS and government transparency. Fallon introduced 28 bills in the last month.
Senator Angela Paxton (R-McKinney), who had introduced zero bills a month ago, has since filed 5 bills, including jointly-authoring the priority bill on property tax reform in the Senate.
On average, freshmen legislators in the Senate filed 17 bills in the last month and 22 in the last two months.
In the Senate, Nathan Johnson (D-Dallas) has filed 32 new bills including SJR 40, which would allow Texans to vote on raising the state share of education funding to 50 percent.
Senator Carol Alvarado (D-Houston) has also filed 29 new pieces of legislation including Senate Bill 326, which would provide a $4,000 salary increase to classroom teachers, librarians, certified counselors and nurses.
Among Republican freshmen, Pat Fallon (R-Prosper) has notable new pieces of legislation including Senate Bill 252, which requires the Teacher Retirement System (TRS) to provide a one-time cost-of-living adjustment (COLA) in the amount of three percent or $100 per month, whichever is less, to employees who retired between Aug. 31, 2004 and Aug. 31, 2017.
Senator Pete Flores (R-Pleasanton), who won a special election in September, is the sole author of 15 new Senate bills, including Senate Bill 938. The bill precludes adopted rules by Texas Parks and Wildlife Department from the "One-in, One-Out" rule.
Quality over Quantity
Anthony Gutierrez, the Executive Director of Common Cause Texas, previously commented to Reform Austin, for the new members in the Legislature, "it is important to make clear that you're someone who is to be taken seriously. Introducing a bunch of inconsequential bills, or bills that seem to serve personal political ambitions ahead of a public policy, are good ways to lose credibility in a hurry."
Overall, legislators should be evaluated not only on the volume of bills they introduce but on the bills they pass. Reform Austin will continue to monitor and evaluate legislative introductions, and share the information with taxpayers.
Learn More
Reform Austin has been tracking the number of bills each freshman legislator has introduced and sponsored over the first two months of session.