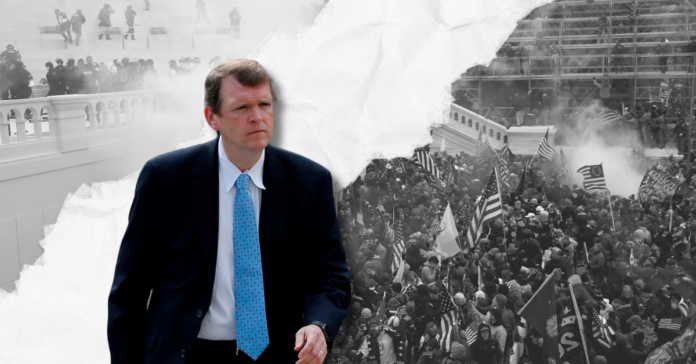 During the second day of Texas Attorney General Ken Paxton's impeachment trial, the focus shifted towards his former first assistant attorney general, Jeff Mateer, who was accused of "staging a coup" against Paxton.

The trial, which had already seen significant revelations, took a surprising turn as Mateer's actions came under scrutiny.

Mateer, who had served as the first assistant attorney general for more than four years, testified that he was among those who reported Paxton to the FBI due to concerns about Paxton's alleged "illegal" conduct.

Later, during the cross-examination the proceedings took a dramatic turn.
Tony Buzbee, Paxton's lead attorney, repeatedly insinuated that Mateer and other senior staff members were collaborating against Paxton. Buzbee suggested collusion by highlighting meetings between Mateer, the governor, and lobbyists from the Texans for Lawsuit Reform group, and by moving to have the attorney general's office hire an outside lawyer before approaching the FBI about Paxton's relationship with Paxton donor and friend Nate Paul.

At one particularly charged moment, Buzbee posed a direct question to Mateer: "You were involved in staging a coup, weren't you?"

Mateer swiftly responded, "Absolutely not."

Buzbee also repeatedly accused Mateer of tampering with official letterhead by removing Paxton's name, alleging that this action constituted a violation of state law by altering a government record. Mateer refuted the accusation, acknowledging that he had signed the letter in question but firmly denying any changes to the letterhead.
Throughout the cross-examination, Mateer engaged in verbal sparring with Buzbee as Paxton's defense attorney attempted to scrutinize Mateer's decision-making process.

At one point, as tensions rose, Mateer challenged Buzbee's line of questioning, stating, "You're trying to misstate things." This back-and-forth exchange highlighted the intensity of the courtroom proceedings, as reported by KSAT 12.Mateer also brought up Paxton's alleged extramarital affair, which had never been confirmed or denied by the attorney general. This affair was cited in one of the 20 articles of impeachment against Paxton, alleging that Paul had bribed Paxton by securing a job for the woman involved in the affair. Mateer testified that he learned of the affair in 2018 when Paxton confessed to members of his staff and sought forgiveness.
Meanwhile, Paxton's presence has been inconsistent, with his absence on the second day raising questions.
While attorneys for the House impeachment managers objected to Paxton's absence, it was ruled that he did not need to be present for the entire proceedings. Paxton's legal and public relations team remained tight-lipped about the reason for his absence, according to The Dallas Morning News.