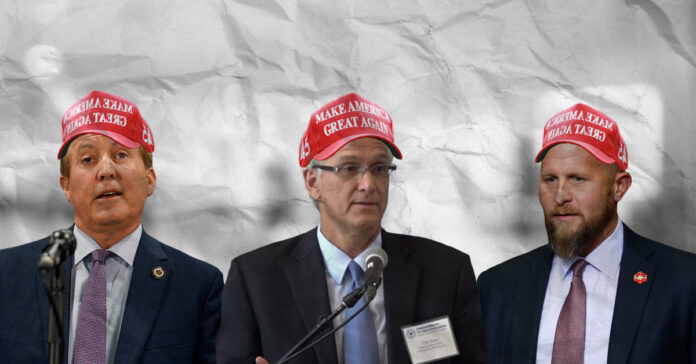 In June, Gen Z conservative influencers gathered in Fort Worth, raising eyebrows and sparking debate about the ethics of political promotion on social media.

The event, organized by Influenceable LLC, showcased a dozen young right-wing influencers networking and promoting causes without disclosing their business affiliations. Influenceable, branding itself as the "world's largest network of digital activists," claims to empower clients by leveraging the credibility of influencers to connect with audiences, as reported by The Texas Tribune.
The event featured notable speakers such as Brad Parscale, the former head of Trump's digital strategy, and Tim Dunn, a prominent Texas oil tycoon known for backing ultraconservative movements and candidates, including impeached Texas Attorney General Ken Paxton.
Influenceable's approach involves recruiting young conservative influencers to advocate for political campaigns and films covertly. According to The Texas Tribune, they recently promoted a series of videos alleging that the Texas Legislature is secretly controlled by Democrats intent on destroying Paxton and other conservatives.

This strategy drew criticism from some Republicans who found it deceptive and potentially damaging to democratic discourse. State Rep. Tom Oliverson expressed concerns over the lack of transparency in these practices and suggested the need for stronger disclosure requirements to prevent the spread of misleading information.

Who is Influenceable?

Influenceable is closely linked to Today Is America Inc., a self-described "anti-woke" social media company that has gained notoriety for pushing conservative viewpoints on platforms like Instagram.

Influenceable's CEO, Camron Rafizadeh, is connected to Today Is America's founders and another executive, Tim Korshunov. These connections reveal a network of organizations aligned with right-wing ideologies.
One of Influenceable's partners is Campaign Nucleus, developed by Brad Parscale. This platform aims to create a direct line of communication between conservatives and their audiences, bypassing traditional tech giants and avoiding what is dubbed as "cancel culture."

Parscale is known for his "digital prowess," he served as Trump's campaign manager from February 2018 until July 2020, when he was demoted. He then left the campaign a few months later after his wife made, then retracted, domestic violence accusations.
In recent developments, Influenceable's strategy involves rallying young conservative influencers to defend Ken Paxton against impeachment efforts and to promote a film alleging a Democratic-controlled conspiracy within the Texas Legislature. These efforts have been criticized for propagating misleading claims and fostering polarization.
While Influenceable's practices might not violate existing campaign finance or political advertising rules, they have highlighted the ongoing debate surrounding the ethics of covert political influence through social media.
As the Republican party attempts to connect with younger demographics, the role of such companies in shaping political discourse remains a subject of scrutiny.