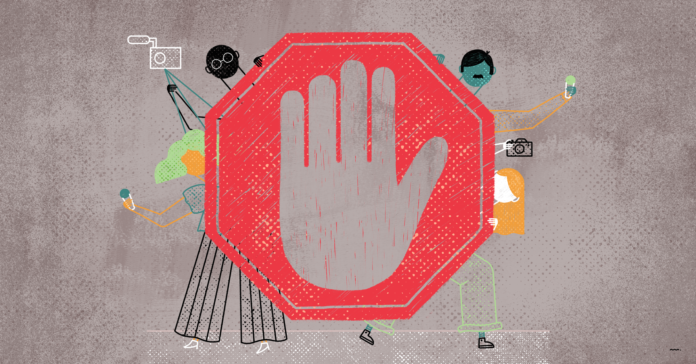 Gov. Greg Abbott has been increasingly inconsistent in allowing the news media to attend his coronavirus press briefings, raising questions about whether he is trying to hinder discussion and control the message.
It is not unique behavior. Across the world, journalists are finding their work more censored by governments in the face of coronavirus.
As the pandemic evolves, there are new questions about what could be next. But if news media access is being limited, is the public getting all the answers to those questions?
Only three news outlets — the Texas Tribune, Spectrum News and the Austin Business Journal — were allowed to attend the governor's Friday news conference to announce his phased reopening of the Texas economy.
This is the third time Abbott has limited press coverage of coronavirus updates, opting instead for a limited "reporter pool."
Even when the number of journalists present is not restricted by the governor, they are often allowed to ask only one question apiece. Abbott has not restricted every news briefing, but he has done so for ones with key and controversial announcements.
The governor also limited press for his announcements of a statewide stay-home order and the closure of restaurants, bars and gyms.
In responding to questions about the media restrictions, Abbott spokesman John Wittman told the Houston Chronicle that the governor felt the public reception room where Friday's briefing was held was a "more appropriate space," even though it is small and can't fit as many reporters sitting at a safe distance apart. The auditorium where other briefings have been held was not used.
"The governor has a tough call to make. Leaders of states have to decide whether or not to open the economy, but if there is a resurgence in cases when they do so, then the criticism gets even more difficult," said Tony Pederson, a journalism professor at Southern Methodist University and the Belo Foundation Endowed Distinguished Chair in Journalism. "If social distancing is part of the answer to why this restriction is happening, we can absolutely understand that."
But Pederson also emphasized that from a journalism perspective, engaging technology to keep press freedom intact is key.
"With the technology available to both leaders and legislators and the press, there's no excuse," Pederson said. "Technology such as Zoom makes it easy for press conferences to be accessible for all reporters to ask questions and get the information firsthand. As a First Amendment advocate and a former journalist, access to information like this is vital for all accredited media."
In other cities such as San Antonio and Houston, public officials have not restricted access to press conferences.
"During a public health emergency, there are extremely strong requirements of governments to provide truthful information to the public so that we as individuals and in our communities can make decisions about what we should be doing," David Kaye, United Nations' special rapporteur on freedom of opinion and expression, told the Washington Post. "That depends on a vibrant press."