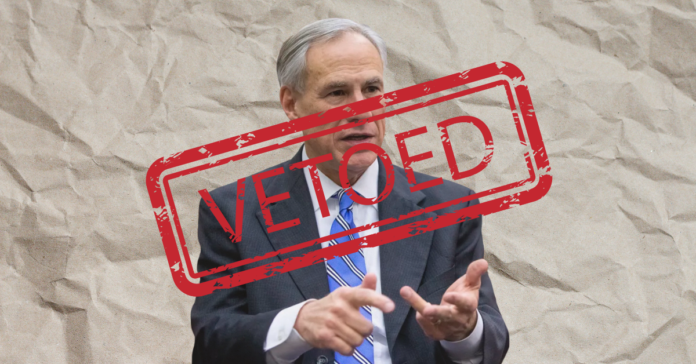 Lt. Gov. Dan Patrick and the Texas Senate find themselves on the brink of a tumultuous Sunday as Gov. Greg Abbott's looming veto threat casts a shadow over the legislative session. Abbott's favoritism toward the House in his bill signings has not gone unnoticed, especially as tensions rise between the governor and Patrick regarding property taxes.
During a press conference, Abbott hinted at holding Senate bills hostage, raising the possibility of their impending veto.

"All of these bills that have yet to be signed face the possibility — if not the probability — that they're going to be vetoed," Abbott warned, emphasizing his intent to scrutinize each bill as the deadline approaches.
It should be noted that bills can still become law without Abbott's signature if the clock runs out on the impending deadline.
According to The Texas Tribune, the disagreement between the House and the Senate centers around property tax reduction. While the House supports compression as the preferred method to reduce and ultimately eliminate property taxes, the Senate favors a combination of compression and a higher homestead exemption.
In response to Abbott's veiled threat, Lt. Gov. Patrick took to Twitter, accusing the governor of jeopardizing the entire legislative session's work and the efforts of lawmakers.

"In a ploy to apparently get his way, Governor Abbott suggests he is threatening to destroy the work of the entire 88th Legislative Session — hundreds of thousands of hours by lawmakers doing the work the people sent us to do," Patrick said.

Abbott has already vetoed two Senate bills and one House bill, and there is a possibility that more bills could face the same fate.
According to Texas Legislature Online, Abbott has a backlog of Senate bills awaiting his signature, outnumbering the ones he has signed. The House also has over 100 bills awaiting action, indicating a potential impasse in the legislative process.