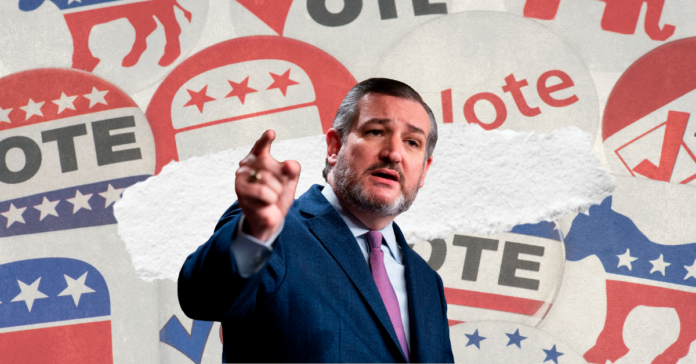 Texas Democrats, (try and) Unite!
A new super PAC, Lose Cruz, promises monetary support to help the Democrat's eventual nominee in the 2024 Senate campaign.
As the Texas Democratic party prepares for a competitive primary, they aim for a united effort to face U.S. Sen. Ted Cruz in the 2024 election.
A group of Texas Democratic operatives launched a super PAC effort on Wednesday, called Lose Cruz. Regardless of who the Democratic nominee is, the PAC will focus on defeating the incumbent.
"Regardless of who faces Cruz next year, the PAC will focus on building a winning coalition of voters by exposing his dangerous extremism, his deeply unpopular positions, and the harmful consequences of his record," a news release said.
Sean Haynes, Matt Angle, Sawyer Hackett, Olivia Julianna and Abhi Rahman are some of the operatives involved in the PAC.
U.S. Representative, Colin Allred, D-Dallas, launched his campaign to challenge Cruz in May and raised a stirring $2 million in its first 36 hours. Since his announcement, he has earned a few national endorsements, including from the Congressional Black Caucus.
State Sen. Roland Gutierrez, D-San Antonio, is expected to run as well. He was expected to enter the race after the regular legislative session ended, however, the likelihood of multiple special sessions could have an impact on his timeline.
This is set to be a different kind of primary than when Beto O'Rourke ran uncontested in 2018 in an unexpectedly close race against Cruz.
The financial firepower this effort will bring is yet to be seen, the organizers have promised to spend "millions" to target voters and run TV and digital ads, among other things. This is a part of the Sensible Americans project, a super PAC that does not have to disclose its initial funding until the end of July.
Cruz's campaign dismissed the super PAC as an effort to support Allred in his campaign.
"He has no name ID and is running on a radical leftist record that Texans have rejected time and time again," Cruz spokesperson Macarena Martinez said in a statement.
Texas has not elected a Democrat statewide since 1994. Democrats have not come close to winning a statewide election since O'Rourke's close race during the 2018 election. However, Cruz is assumed to be vulnerable in a presidential-election year.
A primary race between Allred and Gutierrez has the potential to turn sour. Gutierrez has been quoted in the media criticizing Allred over his cross-party appeals, insinuating he is running as a "Republican-light." 
His focus is on beating Cruz, said a spokesperson for Gutierrez. 
During the 2020 Democratic primary for U.S. Senate, MJ Hegar, who ran a November-focused campaign, was unable to avoid a mucky fight with Sen. Royce West of Dallas, who questioned her Democratic credentials.
Hegar was able to win the primary and runoff during which national Democratic groups spent millions of dollars on her campaign. She lost to incumbent Republican Sen. John Cornyn.
The operatives who joined Lose Cruz, bring in their recent experience in high-profile statewide campaigns for a variety of roles and candidates.
Hayes, the effort's founder, worked for the past two Democratic nominees for attorney general. Rahman previously worked for the state Democratic Party and O'Rourke when he ran for governor last year. Hackett is best known for working for Julián Castro, the former U.S. housing secretary and San Antonio mayor, when he ran for president in 2020.
Julianna is a Gen-Z, abortion rights activist with a massive social media following. On the other hand, Angle currently runs the Lone Star Project and is a veteran party strategist.
So far, Cruz's campaign has focused its attacks on Allred.
In a poll conducted last month by the Texas Hispanic Policy Foundation, on a hypothetical democratic primary, Allred is seen leading Gutierrez 33% to 22%.
The poll also revealed that 49% of voters said they did not know enough about Allred to have an opinion on him. Confirming that Allred has to work for statewide name recognition. However, only 6% of the voters said that they did not know enough about Cruz.