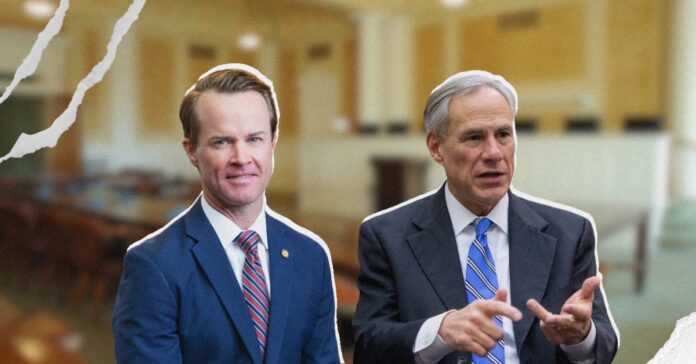 Governor Greg Abbott's priorities of property tax cuts and school vouchers faced a roadblock at the end of this year's regular legislative session. However, House Speaker Dade Phelan has banded together with Abbott on property tax, which begs the question: what does the future look like for vouchers?

Historically, the Texas House has been against vouchers, and this year's legislation was no different, they voted against any voucher-like legislation. However, this unexpected alignment between Abbott and Phelan could yield benefits in the push for school vouchers.

To address the issue of school vouchers, Speaker Phelan recently announced the formation of a 15-member committee that will explore "educational opportunities" for Texas students. This committee will work towards proposing additional options and presenting a report on the various learning choices available by August 11, ahead of an anticipated special session on vouchers.
Phelan's announcement comes after his collaboration with Abbott on a business-friendly plan to lower property taxes. As the regular session concluded with a deadlock between the House and the Senate regarding property tax cuts, Phelan unveiled a new House proposal endorsed by Abbott.

According to The Texas Tribune, the proposal involved allocating $12.3 billion to school districts to enable them to reduce their tax rates through a mechanism called tax rate "compression." This approach diverged from Lieutenant Governor Dan Patrick's stance.

During the subsequent special session on property taxes, Phelan declined to negotiate with the Senate, emphasizing the need to focus solely on compression, as per Abbott's instructions. While Phelan and Abbott displayed unity on property taxes, it remains to be seen whether this partnership can also generate progress on the school vouchers issue.

Representative James Talarico, a Democrat, expressed confidence that the House would continue to resist voucher proposals, citing how they successfully defeated them during the regular session. Talarico said Texans have been fighting off "voucher scams for decades" and will continue to do so.
Gov. Abbott's unwavering dedication to advocating for vouchers persists as he gears up for a special session on education. Throughout the regular 88th legislative session, Abbott demonstrated his willingness to employ unorthodox methods in pursuit of his objectives. These tactics included exerting high-pressure influence, as exemplified by the presence of his staff during the Herrero amendment vote. Additionally, his campaign took the initiative to fund pro-voucher push polls and organize rallies in rural House Republican districts.
It remains to be seen what Gov. Abbott has in store for the special session or when he plans to call it. He recently doubled down on vouchers on Monday, after signing a bill into law that will create a statewide rating and censorship system for school libraries and another promoting more centralized school curricula.