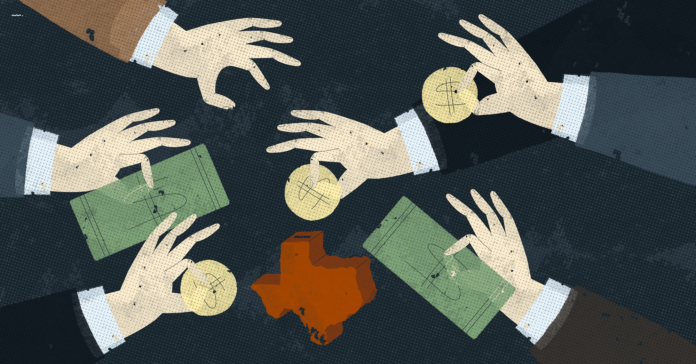 Thirty-nine, mostly white, male, super rich and politically connected Texans will be in charge of the process of reopening the Texas economy.
The Governor's Strike Force to Open Texas, which was handpicked by Gov. Greg Abbott, reads like a Who's Who of Texas elite and includes Houston Astros owner Drayton McClane, Perry Homes CEO Kathy Britton, Dell Technologies CEO Michael Dell, Landry's and Houston Rockets Owner Tilman Fertitta, Gallery Furniture Owner Jim "Mattress Mack" McIngvale, jewelry maven Kendra Scott and Ross Perot Jr., to name a few.
Austin banker and former University of Texas Regent James Huffines is chairing the panel, but Rick Perry's former chief of staff Mike Toomey, a take-no-prisoners type who has moved from the Perry administration to become one of Texas' most powerful lobbyists, will be pulling the strings as chief operating officer.
Collectively, the group of 39 has given millions to Abbott in political donations. They have amassed their wealth in oil and gas, retail, major league sports, high finance and entertainment, leading to questions about whether they stand to benefit from the decisions they will be making about reopening the Texas economy.
"Decisions are made by those who show up, or in this case, are invited to an exclusive council made up almost entirely of business interests with close ties to the governor," said Texas Public Interest Research Group Director Bay Scoggin. "By choosing to represent only corporate interests, Governor Abbott has made clear who will get priority when it comes time to reopen our great state. Decisions that affect the health and well-being of all Texans should not be made by a black box of C-suite donors."
The governor has also been criticized by other elected officials and labor for not choosing a more diverse panel. Texas AFL-CIO President Rick Levy told the Texas Observer it is like a slap in the face to the folks who are out there working every day at great risk to themselves.
Elected officials were not given the opportunity to provide input on Abbott's Friday announcement about a phased approach to reopening Texas, so Democrats in the Texas Legislature put together their own list of recommendations, calling for no reopening until Texas moves out of being dead last in the nation for coronavirus testing. They also called for increased transparency regarding the spread of the disease in nursing homes, expansion of Medicaid to the 1.5 million Texans who are not covered and improved distribution of personal protective equipment to local groups and agencies.
While the Legislature's Democrats and many health care providers question whether Abbott is moving too fast, others complain he isn't moving fast enough. Hundreds showed up at the State Capitol on Saturday to urge an end to the state's stay-home order. The protesters consisted of supporters of President Donald Trump as well as anti-vaccination and anti-abortion activists.
It remains to be seen just how the reopening process will unfold or what type of input those who are not members of the strike force will have. Abbott's executive order creating the strike force indicates the panel will advise the governor on "safely and strategically restarting and revitalizing all aspects of the Lone Star State — work, school, entertainment, and culture."
Scoggin holds out hope that the concerns of the general public will not be overlooked.
"We hope that the council members will look past their personal financial gain and protect the health of our citizens, but we would have felt a lot better if the makeup of the council more accurately represented everyday Texans like you and me," he said.
The first step in the governor's plan was implemented Monday — the reopening of state parks and historic sites. On Wednesday, doctors and hospitals will be allowed to resume non-emergency surgeries. Then Friday, retailers may initiate curbside service. Abbott has said more announcements could be forthcoming next Monday, April 27.
As of Monday, the Texas Department of State Health Services reported 19,458 cases and 495 deaths from coronavirus in Texas.