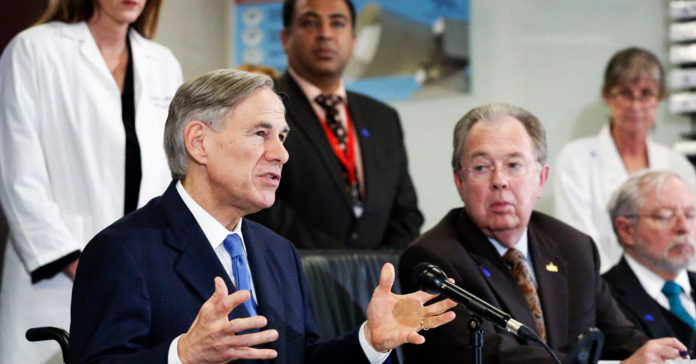 Although still not ready to announce any details of his plan, Gov. Greg Abbott today offered a glimpse of how he intends to reopen the Texas economy. There will be a testing component and only businesses that will have zero impact on the spread of COVID-19 will be the first allowed to reopen.
"This is not going to be a rush to the gates and everybody is able to suddenly reopen all at once," said Abbott. "We have to understand that we must reopen in a way in which we are able to stimulate the economy while at the very same time ensuring that we contain the spread of COVID-19."
Abbott intends to roll out more details, including information on how long schools will stay closed, later this week.
The governor has faced mixed reviews for announcing that he wants to begin reopening the state for business. He has also been praised by those who are concerned about the long-term economic impact of a prolonged shutdown.
Abbott also announced today the availability of $50 million in loans for small business in Texas. Half of the money is coming from a collaborative agreement between Goldman Sachs and the LiftFund. The rest is being provided through the Paycheck Protection Program included in the $2 trillion federal stimulus package passed by Congress to help invigorate the nation's economy during the pandemic.
The loans are designed to help companies keep employees on payrolls. The loans will be partially or wholly forgiven if certain conditions are met.  Applications for the program will be accepted starting today at www.liftfund.com.
The Goldman Sachs 10,000 Small Businesses Program helps entrepreneurs and other potential job creators gain access to education, capital and business support services. To date, more than 9,100 business owners have graduated from the program across the country.
Founded in San Antonio, LiftFund provides credit and services to small businesses that do not have access to capital from typical lenders such as traditional banks.
As of earlier today, there have been 133,000 Texans tested for COVID-19. More than 13,900 people have tested positive for the disease, and 287 people have died. 
Abbott said overall trend lines show continued improvement in Texas. Hospital admissions are down. The rate of spread is down. And Sunday marked the lowest three-day death rate in the state.