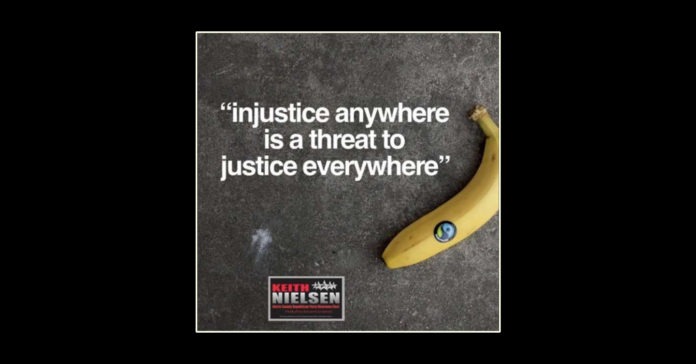 The Republican Party of Texas has a new Harris County leader today. It's Keith Nielsen, who posted a racist meme on his Facebook page during the protests about the death of Houstonian George Floyd at the hands of Minneapolis police.
Following the outrage over his post, Nielsen said he would not assume the chairmanship. There had been rumors for weeks that he intended to renege on that promise. To officially resign, Nielsen would have had to notify the party's secretary of his intent to do so by midnight last night. That deadline passed without a peep from Nielsen.
As of Sunday evening, nearly 130 GOP precinct chairs signed on to a letter reminding Nielsen of his promise to step aside.
"This difficult decision rightfully put our party over personal interest," the precinct chairs' statement reads. "This allows the Republican Party to move forward towards victory in November.
"We look forward to working with the Republican Party of Texas to address the vacant chairmanship, elect a new Harris County Republican Party chairman, and conduct the important business of selecting our party's nominee for county clerk at the upcoming Harris County Republican Party organizational meeting."
Others, including Lt. Gov. Dan Patrick and U.S. Rep. Kevin Brady (R-Conroe), were harsher in their calls for Nielsen not to take office.
"We are the party of Lincoln, @Keith_Nielsen. Get out. There is no room for your bigotry and ignorance," Brady tweeted.
Based on Nielsen's public statement that he would not be taking office, the party had gone ahead and scheduled this coming Saturday as the day to elect a new chair. With Nielsen not following through on his own, it is unclear if there is a mechanism for removing him.
Nielsen posted a Martin Luther King Jr. quote next to a banana in a meme on his Facebook page. The use of the banana has long been interpreted as comparing Black people to monkeys.