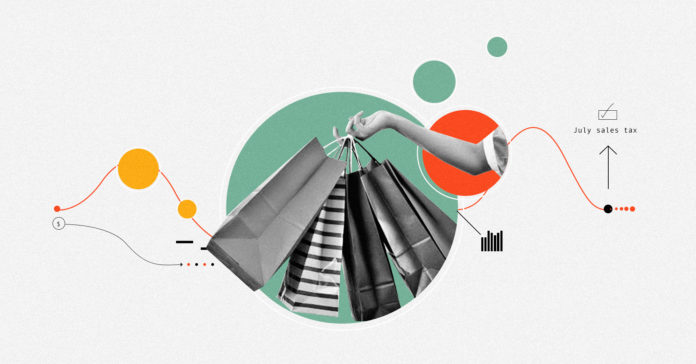 New sales tax numbers released by Texas Comptroller Glenn Hegar today show Texans have been doing a lot of shopping.
State sales tax receipts for July totaled nearly $3 billion last month. That's 4.3% more than in July 2019, when there was no pandemic.
The majority of the July sales tax revenue is based on sales made in June when social distancing requirements were more relaxed across the state than in previous months when sales tax receipts had plummeted.
"State sales tax collections in July were better than expected, increasing despite the high unemployment due to the pandemic," Hegar said.
The comptroller attributed the increase to a surge in collections from retailers.
"Collections from e-commerce were up sharply, as many consumers chose to shop online rather than at brick-and-mortar stores," he said.
Our increased time at home both for teleworking and staycations, in lieu of leisure travel, spurred sharply higher spending for home improvements.
"Collections from food and beverage stores also were up strongly, as consumers replaced purchases of alcohol from restaurants and bars with alcohol purchased for off-premise consumption (alcohol sales at bars and restaurants are subject to mixed beverage taxes, not sales and use tax)," Hegar said. "Collections from sporting goods stores also rose significantly, as consumers turned to home workouts, bicycling, boating, camping and other forms of outdoor recreation consistent with social distancing.
Hegar believes the increased spending was supported by the enhanced unemployment benefits provided by the federal stimulus bill. He expects there may be change in future months now that the extra benefits have expired with no new deal yet reached in Congress.
Even with the July bump, total sales tax revenue for the three months ending in July 2020 are down 5.3% compared with the same period a year ago.
The effects of the economic slowdown and low oil prices were more evident in other sources of revenue in July 2020, though most were improved compared to previous months.
Motor vehicle sales and rental taxes, motor fuel taxes, oil production tax, natural gas production tax, hotel occupancy tax and alcoholic beverage taxes were all down in July. Mixed beverage gross receipts and sales taxes, which typically make up the bulk of monthly alcoholic beverage tax collections, were down 41% compared with July 2019.
Sales tax is the largest source of state funding for the state budget, accounting for 57% of all tax collections.