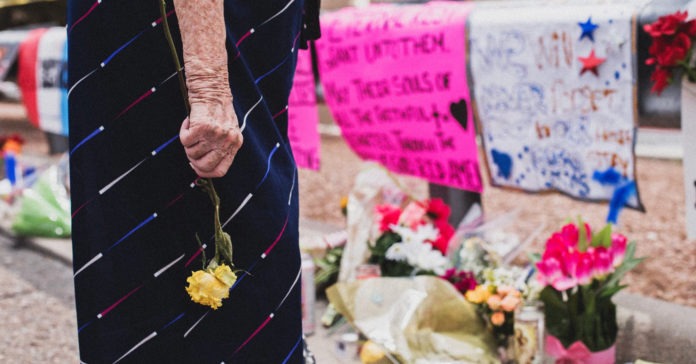 One year ago today, 23 people were killed at a Walmart in El Paso. People throughout Texas and beyond are remembering the lives lost and forever changed in the deadliest attack on the Latinx community.
The man from Allen, Texas, who has been charged in the attack said he bought the weapon, an AK-47, from Romania. He is facing dozens of state and federal charges. Texas does not have a ban on AK-47 rifles.
Remembering and Grieving
The Congressional Hispanic Caucus wrote a tribute on Twitter.
"One year ago today, the El Paso shooting was not only an attack on the Latino community, but an assault on our entire American family," the post said.
"Each victim was loved and valued …." said Texas Congresswoman Sylvia Garcia in a video in a tweet. "The attack on El Paso was an attack on all the Latino community from Houston to Miami and Los Angeles to Chicago, Latinos all across America were deeply hurt by this tragic shooting."
"I stand with my comadre @RepEscobar …" Garcia tweeted. "We won't be intimidated."
Political commentator Ana Navarro-Cárdenas wrote, "He shot them because of hatred, triggered by politics of division. Never forget. Fight, vote against bigotry."
Santiago Palomino, Texas Young Democrats Latinx Caucus Chair, wrote on Twitter, "We lost innocent people because of the hate and racism that belongs in this country. Latinos were the target, just for being themselves."
Survivors reunited recently with their heroes, fellow shoppers who risked their lives to help others during the attack, KTEP News reported.
People are grieving differently because of the pandemic, the El Paso Times reported. Some decorated cars, some drive by tributes and luminarias at Ascarate Park. In Ponder Park, mourners will be able to tie orange ribbons signifying a stance against gun violence.
One mourner in Texas tweeted, "Today marks a full year since the El Paso shooting (one of the worst days of my life). A year later and people hardly remember the shooting, meanwhile legislators have done absolutely nothing ,making wonder how many more have to die before the government does something about it?"
One tweet shared the 23 spotlights displayed near Ascarate Lake to honor each of the lives lost.
Gun Policies
A statement from Texas Gun Sense, a statewide nonprofit and nonpartisan organization advocating for evidence-based policies to reduce gun injuries and deaths, said work is needed for policies on long guns.
"No license, training, or certification is required to openly carry an assault-style weapon or any other long gun. Walking across a parking lot openly carrying an assault-style weapon is alarming to many. For example, think about the traumatized folks in El Paso and someone openly carrying a long gun today," the statement said.
"Limiting the open carry of long guns should be an easy change for Texas lawmakers," wrote Gyl Switzer, executive director of Texas Gun Sense.
One of Texas Gun Sense's priorities for the 2021 legislative session is enacting an Extreme Risk Protection Order law, states a press release from June 30. Such a law would provide a formal civil legal process to temporarily remove an individual's access to firearms if they pose a danger to themselves or others. The El Paso shooter's mother had called the police a week before the attack because of concerns over his age and the firearms, although he had been legally able to purchase the guns.
"This is a time for reflection and time to do better. Gun tragedies happen when there is a lack of responsibility. … I worry we are becoming a nation of survivors," Leesa Ross, founder of Lock Arms for Life and board member of Texas Gun Sense, said in an email Monday about the one-year-anniversary of the El Paso Shooting.

"Gun sales have increased during the crisis. There are a lot of new gun owners who need to know about safety," she wrote. "People must know that owning a gun is more than a right. It's a responsibility that demands awareness about love and safety. The unthinkable tragedy that happened in El Paso should never be forgotten. Taking action to make our lives safer is the best way to make preventable deaths count for something that can save lives of others."