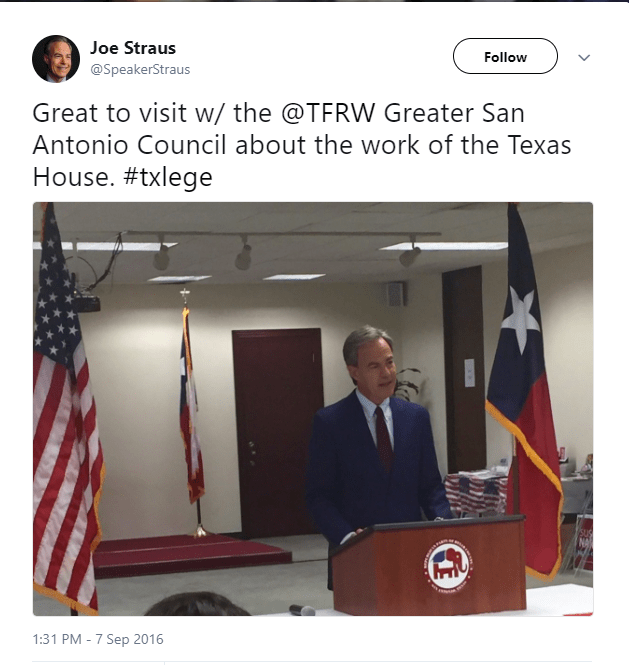 (Image source: Twitter)
Candidates looking to do what's best for Texas should take a page from outgoing Speaker of the House, Joe Straus ( R-San Antonio).

Straus, who's not seeking re-election, recently blasted President Donald Trump on his stance of separating migrant children from their parents at the Texas-Mexico border.

"The images and reports of innocent, terrified, children being taken away from their parents are of grave concern to me, many of the people I represent, and millions of Americans," Straus wrote in a letter posted on Facebook. "While I understand that the approach of separating parents did not begin with your presidency, it has been expanded by several actions of your administration, including the announcement of General Sessions' 'zero tolerance' policy in April."

Straus ends his letter by requesting Trump "immediately rescind directives that have resulted in the increase in separations of children from their migrant parents."
Standing up to his own party is nothing new for Straus. In early June, Trump scolded Texans over Hurricane Harvey, claiming, "People went out in their boats to watch the hurricane. That didn't work out too well."

Straus clapped back on Trump, writing, "The people who took their boats into the water during Harvey were not storm-watchers. They were heroes who went toward danger to rescue friends, neighbors, strangers. Texans helping Texans in a time of desperate need."

Straus has a history of breaking from the status quo. During the 2017 Texas Legislature special session, Straus voted against the so-called "bathroom bill," aimed at prohibiting transgender Texans from using gendered bathrooms they identify with. Straus opposed the bill on the grounds that it was bad for the economy.
What would you say to our politicians in Austin? We're on the streets of Dallas to find out.
Posted by Reform Austin on Monday, June 4, 2018
The house speaker's views have caused him to be censured by his own party.
"His role in blocking that bill was the most recent addition to a long list of grievances that many in the conservative wing of the Texas GOP have compiled against Straus, who is generally considered a more moderate Republican," the Texas Tribune wrote in January.

Austin needs more moderates like Speaker Straus. The capitol also needs politicians on both sides who are willing to stand up to party politics, and who will work together for the people.

"I try to encourage cooperation. I try to encourage bipartisanship. I know that's not a very fashionable thing today," Straus told NPR back in August.

Candidates from both major parties can learn from Straus' example, working together rather than against each other.  Candidates who run to their partisan corners may find they have left the middle behind, and find themselves coming up short in November.