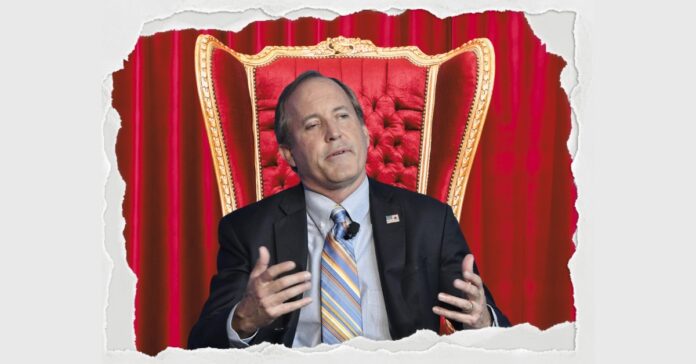 As the 88th Texas Legislature begins, two bills would hand Attorney General Ken Paxton a lot more power.
Since 2022, Paxton has been waging a long war against election fraud despite finding virtually no evidence that it exists and repeatedly being told by courts he is out of line. The two recently filed bills would clear his path for more draconian investigations.
House Bill 678, filed by Rep. Keith Bell (R-Forney), would let Paxton appoint special prosecutors for election crimes. While somewhat mild on its face, the new law would likely let Paxton use ideological cronies from outside the AG office to doggedly pursue anyone Paxton opposed over election matters.
House Bill 125 ,filed by Rep. Bryan Slaton (R-Royse City), would give Paxton the ability to go after local officials he feels are not prosecuting election crimes to his satisfaction. This would almost certainly include officials in Texas's blue cities, who have repeatedly stood up to the Republican-controlled state government in their attempts to restrict voting.
The bills are just the latest in a series of moves by Texas Republicans to shore up the Big Lie that the 2020 election was rife with fraud. Paxton was a chief cheerleader of former President Donald Trump on the matter. He spent $2.2 million investigating cases of fraud, but found less than 20 out of the millions of Texans who voted. Most of those appear to be errors rather than a widespread plot to deny conservatives office.
His largest win, a woman named Monica Mendez who pleaded guilty to 26 counts of illegal voting, was in reality simply using the same non-profit housing address for multiple people she registered to vote. This is in keeping with Texas Republicans' long history of targeting homeless shelters, dorm housing, and other addresses used by low-income Texans for voter disenfranchisement. Nonetheless, the AG office framed Mendez's work as an illegal vote harvesting operation.
In September, the Texas Court of Criminal Appeals told Paxton that he couldn't step in and take over voter fraud cases. The court affirmed that Paxton had to keep deferring to local prosecutors in such cases. House Bill 125 is a clear attempt by Paxton's supporters in the legislature to allow him to sidestep the court's ruling.
Stirring up election fraud has been a prime selling point for Texas Republicans since 2020. The Texas GOP Convention even had a screening of the film 2,000 Mules, a discredited "documentary" by convicted election fraudster Dinesh D'Souza that claimed widespread voter fraud on shaky evidence. Most of the argument used in the film was that it was suspicious people would drop off multiple mail in ballots at night, and that phone tracking data showed a lot of people would pass by ballot boxes.
Paxton himself was handily re-elected in 2022 despite his still-current indictment on fraud and an ongoing investigation by the federal government for misuse of his office. He appeared to seek a pardon from former President Trump in the last days of his administration, but was ultimately not on the list.