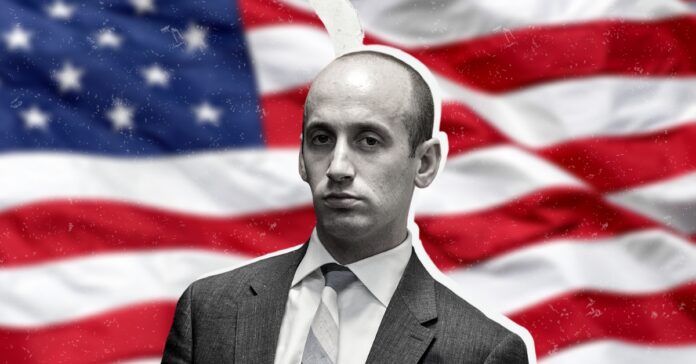 A group with ties to white nationalism has been launching legal challenges against affirmative action in Texas. Their latest target? Texas medical schools.
The America First Legal Foundation was founded by Stephen Miller, former Senior Policy Advisor to President Donald Trump. Not only was Miller the architect behind Trump's family separation policy at the southern border, he has long ties to various white nationalist and supremacy groups. Emails from Miller's time working at Breitbart show he regularly cites work from virulent racist groups VDRARE and American Renaissance.
In what he has called "national crusade" against affirmative action, Miller's group has been filing legal complaints on behalf of white and Asian people claiming official discrimination. The plaintiff in the suit is George Stewart, who said he was rejected from six Texas medical schools while women, Black, and Hispanic applicants with lower test scores were accepted. Stewart says he applied to Texas Tech University Health Sciences Center, Dell Medical School at the University of Texas at Austin, McGovern Medical School in Houston, UT Medical Branch at Galveston, UT Health Science Center at San Antonio and UT Southwestern Medical Center in Dallas over the course of two years.
America First Legal Foundation suit claims that Stewart was rejected despite a high GPA and score on the MCAT, the medical admittance test, while other applicants with lesser scores were admitted. None of the schools named in the lawsuit have commented since the story broke in the Houston Chronicle.
Miller's group frames the other applicants as "less qualified," leaning on an ancient criticism against affirmative action programs that they weaken schools and professions by handing opportunities to incompetent minorities. Affirmative action plans are only illegal if they compromise the quality of work or education.
Nor is the suit's claim that affirmative action results in discrimination against white men have any basis in fact. The U.S. Department of Labor has found that the vast majority of discrimination complaints brought by white men are without merit, and only about 3 percent of discrimination cases brought to the Equal Employment Opportunity Commission are from white men.
Unfortunately, the new conservative super-majority on the U.S. Supreme Court is currently hearing cases that are likely to end affirmative action as we know it. Students for Fair Admissions v. President and Fellows of Harvard and Students for Fair Admissions v. University of North Carolina will be heard this term. Both suits are brought by crusading anti-progressive Edward Blum. It was Blum who was behind the challenge that gutted the Voting Rights Act. Miller seems to be following in Blum's steps, right down to adding Asian-Americans to his mission statement to seem less racist.
It is unknown how accurate Miller's group's framing of other applicants is at this time. Affirmative action programs have long reduced the over-reliance on MCAT scores and GPAs. Studies show that poor performance on the MCAT is not a good determination of the quality of the applicant. Some schools now use a more holistic approach to decide on admission in order to combat inherent biases.