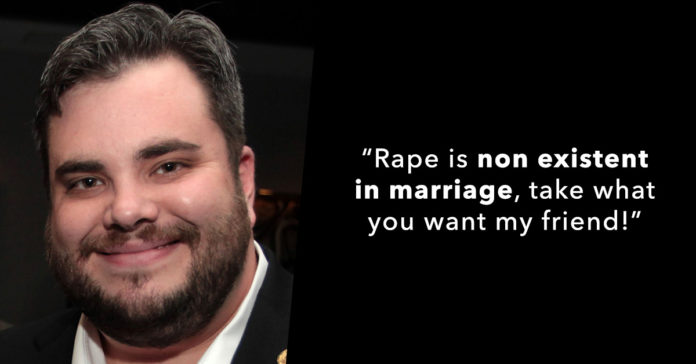 "Rape is non existent in marriage, take what you want my friend!"

These words were posted in an online forum by Jonathan Stickland (R -Bedford), who serves as the representative for Texas House District 92. When his 2008 statement was exposed in 2015, Stickland offered an apology and claimed it was a joke.

The phrase resurfaced earlier this year, however, when Stickland sent his team out to stump for Susanna Dokupil, a Republican running for Texas House District 134. Stickland's aim was to unseat fellow Republican Representative Sarah Davis of Houston, who Stickland claimed was too "LIB (liberal)."
My team is spending this week helping @susannadokupil replace LIB @SarahforHD134 -Response so far: Overwhelmingly positive #onward #txlege pic.twitter.com/bUyNsqX8O9

— Jonathan Stickland (@RepStickland) January 5, 2018

Davis, who defeated Dokupil in March, fired back with a meme of Stickland and his infamous quote.
— Sarah Davis (@SarahforHD134) January 5, 2018

Stickland did not deny he said "rape is non existent in marriage" and responded, "I've apologized 4 stupid comments I made in my younger years, have u publicly apologized for your horrendous liberal voting record? #txlege."

Davis and Stickland continued their exchange, with Davis repeatedly reminding Stickland of his toxic words.

As Davis pointed out to the Houston Chronicle, she and Stickland may not be running for the same seat but their contests and internal fight highlight a split in the Texas Republican Party. Stickland is a proud, far-right Republican and a co-founder of the House Freedom Caucus while Davis is more moderate.

"My race is definitely probably bigger than just me," Davis told the Chronicle. "It probably is about where the party's going to go."

Davis overcame the outside efforts of Stickland and other Republicans, and won the Republican Primary in March with 56.3 percent of the vote. Stickland was first elected to the Texas House of Representatives in 2012. Despite his posting on rape (he's made other outrageous statements too) and rating as one of the "worst" legislators in Austin by Texas Monthly and D Magazine, Stickland is seeking another two-year term in the Nov. 6 General Election.

Separately, PolitiFact, a nonpartisan organization which evaluates the truthfulness of political statements, has given Stickland a "Pants on Fire" ranking for an "incorrect and ridiculous" attack against a previous political opponent.