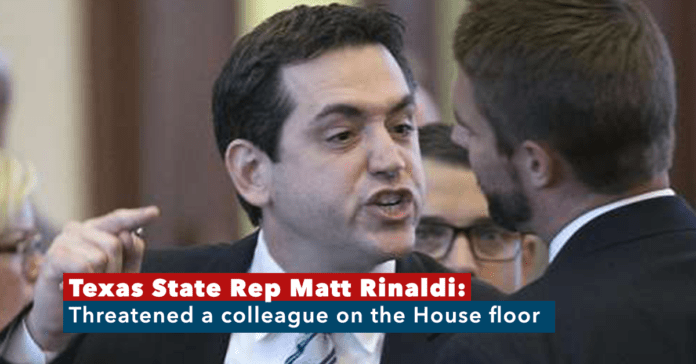 If Texas politicians are sincere about representing the best interest of their constituents, then it's imperative they work together.

But Texas Rep. Matt Rinaldi (R – Irving) seems more interested in fighting his colleagues than he does passing meaningful legislation.

Rinaldi, who's held his seat since 2014, threatened to "put a bullet in one of his colleague's heads" in 2017. According to the Texas Observer, Rinaldi made the comment to Texas Rep. Poncho Nevarez (D – Eagle Pass) during a heated argument on the House floor over Senate Bill 4, which bans sanctuary cities in Texas (Texas Gov. Greg Abbott signed it into law in 2017).
ICYMI: Shoving on the floor of the Texas House today after Rep. Matt Rinaldi, R-Farmers Branch, said he called ICE on protesters. (via KVUE) pic.twitter.com/NbJFy2wdGD

— Jason Whitely (@JasonWhitely) May 29, 2017

Rinaldi's behavior led Texas Monthly to list Rinaldi as one of the worst legislators of 2017, stating, "His conduct embarrassed himself, the House, and Texas."

"But instead of understanding that his opponents have a right to express their dissent and comporting himself like a statesman, Rinaldi did, well, the opposite of that," the magazine stated.

Rinaldi clarified his position in the mele in a May 29, 2107 Facebook post, claiming Nevarez "threatened my life on the House floor after I called ICE on several illegal immigrants."

Nevarez fired back on Twitter, calling Renaldi a "liar and a hateful man."
He's a liar and hateful man. Got no use for him. God bless him. https://t.co/te13An7gwm

— Rep. Poncho Nevárez (@poncho_nevarez) May 29, 2017

Neverez isn't the only representative who saw Rinaldi's actions as hateful.
"Matt Rinaldi looked into a House gallery full of Americans exercising their first amendment rights against SB 4 – Americans of all ages and all ethnicities – and he only saw 'illegals,'" Rep. Ramon Romero, D-Fort Worth, said in a statement. "Let me be clear, this was a personal attack on me as a son of Mexican immigrants."

Like all Texas legislators, Rinaldi has a right to disagree with protestors and his colleagues. Threatening to shoot other lawmakers undercuts his ability to work with others, and highlights his inability to conduct himself like a professional, two vital traits needed to move Austin forward.