Texas Election Source, a nonpartisan analytical website that covers Texas elections, voter trends and politics, now projects Democrats will flip six Texas House seats in November. That is double the prediction made in April.
Six more Democratic seats would cut the GOP advantage in the house to 77-73 entering the 2021 legislative session. Democrats would need to flip nine seats to take over the majority.
Seven Republican-held seats are considered toss-ups or leaning Democratic. They are District 66 held by Rep. Matt Shaheen (R-Plano), District 67 held by Rep. Jeff Leach (R-Dallas), District 108 held by Rep. Morgan Meyer (R-Dallas), District 112 held by Rep. Angie Chen Button (R-Richardson), District 134 held by Rep. Sarah Davis, (R-Houston) and Districts 96 and 138, both of which are open right now.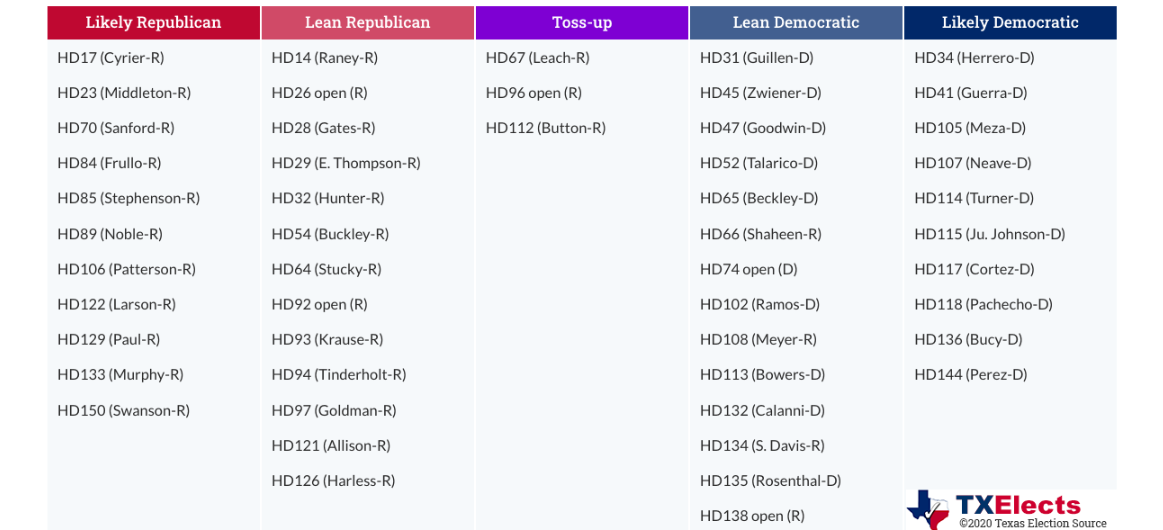 District 134 appears to be the most endangered.
"We project Davis' ability to win over ticket-splitting voters will not be enough this year," reads the information on the website.
The website also predicts the shift from red to blue will be finished in Dallas County this year.
"Dallas Co. was the epicenter of the Democratic surge in 2018," the website states. "Only two Republicans represent the county in the state House currently, and we project that number will be zero after November. Tarrant Co., home to five races rated Toss-up or Lean Republican, and Fort Bend Co., with three seats in the Lean and Likely Republican columns, are expected to be the chief battleground counties in the House this year."
Only two Democrat-held House seats are projected to be within 1.5 percentage points of a toss-up.
In the Texas Senate, Texas Election Source predicts Democrats will pick up one seat, maintaining the Republican majority with a makeup of 18-13.