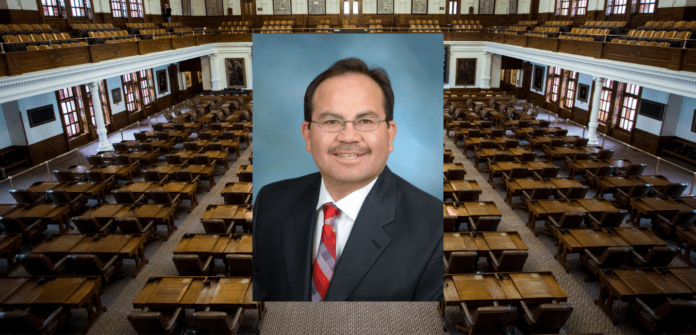 (Pictured: Peter "Art" Fierro)
On Tuesday night, Peter "Art" Fierro was declared the winner of the Texas House District 79 special election replacing Joe Pickett (D – El Paso), who stepped down in late December due to health issues. It was a low turnout election and Fierro avoided a runoff by 157 votes.
Fierro's professional experience includes marketing and governmental relations consulting. He is a business owner and is involved in the community with his membership on the Rio Grande Council of Governments, Hispanic Leadership Institute of El Paso, Board of the El Paso Holocaust Museum and others.
Fierro is currently the Chairman of the El Paso Community College Board of Trustees. He has been in that position since he was elected in 2006. He has served as President and CEO of both the El Paso Hispanic Chamber of Commerce and the Austin Hispanic Chamber of Commerce.
Fierro was endorsed by the El Paso delegation in the Texas Legislature: Sen. Jose Rodriguez (D – El Paso), Speaker Pro Tem. Joe Moody (D – El Paso), Rep. Lina Ortega (D – El Paso), Rep. Cesar Blanco (D – El Paso), and Rep. Mary Gonzalez (D – Clint). He was also endorsed by CLEAT, El Paso Municipal Police Officers Association, El Paso County Sheriff's Officers Association, Ysleta Teachers Association (an affiliate with TSTA/NEA) and the Paso del Norte Tejano Democrats.
Following the Money
According to a Reform Austin analysis of campaign finance records, Fierro raised $62,193 throughout the campaign. 55 percent of his contributions were from individuals, including $2,500 collectively from House Speaker Pro Tem. Moody, Rep. Blanco, and Rep. Ortega. Fierro also received $2,000 from John Martin, owner of an El Paso title insurance company and president of the Texas Land Title Association Board of Directors. 45 percent of Fierro's contributions were from PACs.
Nearly $15,000 alone came from the Texas Trial Lawyers Association, $12,868 of which was an in-kind contribution of direct mail dated Jan. 16 during the first week of early voting. Fierro also received $5,000 from the El Paso Municipal Police Officers Association and $1,000 from the El Paso Sheriff's Officers Association, both of whom had endorsed him. He received $2,500 from AFSCME, $2,250 from lobbyists, and $2,142 from anti-consumer and insurance groups.
Fierro spent $33,271 up until the filing on Jan. 21, 8 days before the date of the special election. Heading into the session during which fundraising is prohibited, he had $10,500 cash on hand.
After being sworn into the Texas House of Representatives next month, Fierro will serve on the Agriculture & Livestock Committee and the Elections Committee.