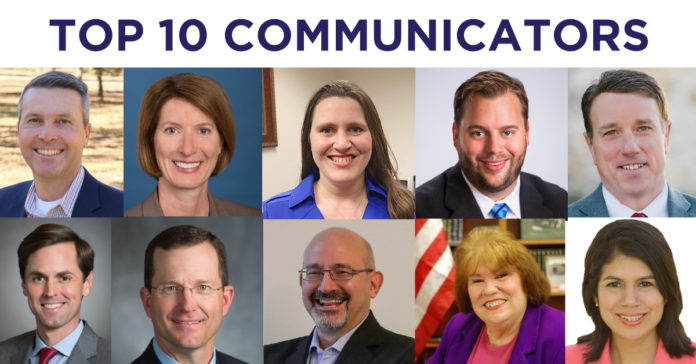 Representing the public is a challenging but extremely important job. Though many see politicians through a cynical lens, elected officials are, by definition, public servants. That means people expect the individual they elect to represent them and their community, and it also means constituents want a certain level of access to their elected officials, especially during the legislative session.

An elected official's first year in office is critical. It determines whether a government representative can take their knowledge of the community to Austin and vote for the people—rather than themselves or someone paying for their vote. People want to trust their officials on important kitchen table issues, such as property tax, education, and health care, and they want to know their voices are heard.

Reform Austin did a deep dive on Facebook to determine which of the 30 new members of the Texas House and six new members of the Texas Senate actually interacted with their communities.

Freshman legislators' Facebook pages were evaluated for number of public and private events held. Events counted in the analysis were scheduled events open to the public or private events to discuss legislative events with groups such as a local chamber of commerce. Analysis did not include events where legislators did not speak to constituents or meetings where constituents had to make a trip to the capitol to speak with legislators.

Of the 36 freshmen legislators, Rep. Vikki Goodwin (D-Austin) came in first place with 29 public events and six private events. Goodwin held and/or participated in multiple events before, during, and after the 86th legislative session. Rep. Goodwin is also recognized for her creative "constituent coffee chats," where she asks constituents for input in an open, informal atmosphere.

Closely behind Rep. Goodwin for most events held is Sen. Carol Alvarado (D-Houston) with 34 events. Alvarado spoke with constituents at many community events and kept various community groups up-to-date with the status of the session.

Tied at 0 events held are Rep. Alex Dominguez (D-Brownsville) and Rep. Leo Pacheco (D-San Antonio). Neither representative held a single event, public or private, to communicate with constituents.

The average number of events held for the freshmen legislators of 2019 is 14. Legislators with existing political ties held noticeably less events. Sen. Angela Paxton (R-McKinney), spouse of Texas Attorney General Ken Paxton, held only 5 events. Rep. Sam Harless' spouse Patricia Harless previously represented the same district he now presides over (HD 126). He held only four events.

Even Rep. Ray Lopez (D-San Antonio) and Rep. Christina Morales (D-Houston) who won their seats in March special elections were able to hold more events (13 events and 12 events, respectively).

If elected officials want to keep their seats in 2020, they'll need to make sure their constituents know they're making an effort to serve in their district's best interests, which means giving the people they serve the opportunity to make their voices heard.