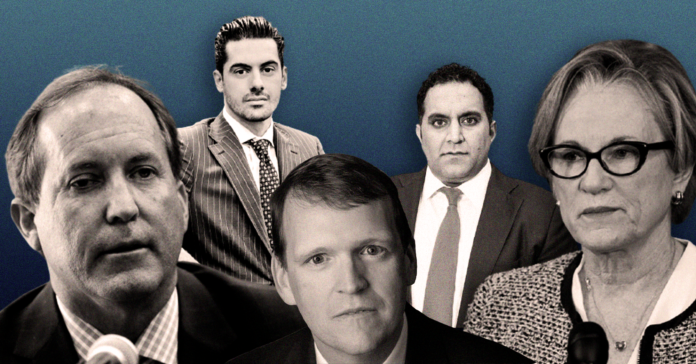 Texas Attorney General Ken Paxton is investigating two of the employees who last week requested an investigation of him for bribery and misuse of his office.
In his first interview since the scandal broke, Paxton told the Southeast Texas Record that he was about to place first assistant attorney general Jeff Mateer on administrative leave when Mateer resigned. Mateer joined six other high-ranking Paxton staffers in going to the media with allegations of possible criminal wrongdoing by Paxton. 
"My own staff attacked me publicly … all I ever asked them to do was find the truth," Paxton said. "I was about to put Mateer on emergency investigative leave for issues related to this particular incident. I think he found out about it and decided he wanted to leave and set the narrative."
Since the firestorm erupted, Paxton has placed two other employees, David Maxwell, the OAG's director of law enforcement, and Deputy AG Mark Penley, on administrative leave, he told the paper.
Paxton's employees have accused him of using his office for the benefit of political donor and Austin developer Nate Paul. On Monday, Paxton announced he was closing his investigation into a complaint about the mishandling a raid at Paul's home and business in 2019 by the FBI and other law enforcement.
In the new interview made public on Tuesday, Paxton said he believes there is substance to Paul's claims, but that he had to close the investigation when the Travis County District Attorney said her employees would have no further contact with the AG on the matter.
Paxton said he brought in a private attorney because he felt his employees were refusing to help.
"It seems like my office did everything possible to stop an investigation of some law enforcement agencies," Paxton said. "I can only come to the conclusion that there was an effort to cover up the reality of what really happened. This wasn't supposed to be a complicated investigation."
Paxton has still not addressed questions about his relationship with Paul. There have been numerous calls for him to resign, but he has said he's staying put.
The FBI has indicated it is looking into the bribery and misuse of office allegations made by Paxton's employees.
Since the scandal broke, Paul's attorney demanded that Paxton preserve all records related to the investigation, a move viewed as laying the groundwork for possible legal action against the AG's office.