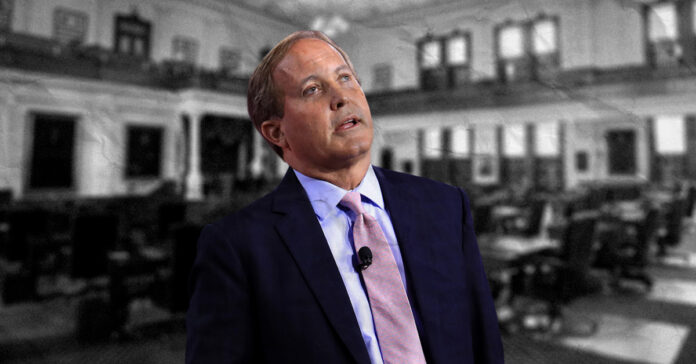 Attorney General Ken Paxton faced a significant setback as Senators decisively rejected all of his motions to dismiss the articles of impeachment against him. However, Team Paxton did take home a small win, Lt. Gov. Dan Patrick rules that the suspended AG could not be compelled to testify. 
The rules established for the trial, which were approved by the Senate, granted Lt. Gov. Dan Patrick the authority to issue subpoenas to compel witnesses' attendance, as he was acting as the presiding officer or judge in the proceedings, as reported by The Texas Tribune.

Paxton had been adamant that he would not testify during the trial, with his lead attorney, Tony Buzbee, asserting Paxton's right against self-incrimination.

"We will not bow to their evil, illegal, and unprecedented weaponization of state power in the Senate chamber," Tony Buzbee, Paxton's defense lawyer, said of the House.

Subsequently, Paxton's legal team filed a pretrial motion requesting that the Senate excuse him from testifying. They argued that the trial should be treated as a criminal proceeding, affording Paxton the same legal protections as a criminal defendant, who cannot be compelled to testify.
However, House managers argued Paxton must take the stand if subpoenaed, and argued that if Paxton wished to refuse to incriminate himself in testimony, he should assert his Fifth Amendment right from the witness stand.
In response, Lt. Gov. Dan Patrick announced his decision on Tuesday, emphasizing that the Senate's adopted rules paralleled those typically applied in criminal cases. These rules included Paxton being required to plead guilty or not guilty and the House impeachment managers having to prove their case beyond a reasonable doubt, a standard commonly used in criminal trials.
Consequently, Patrick concluded that Paxton could not be compelled to testify as a defendant in his impeachment trial.