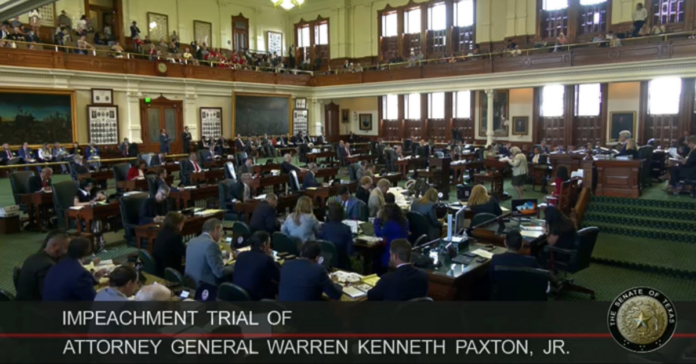 To inaugurate the much anticipated impeachment trial of suspended Attorney General Ken Paxton, the Texas Senate took a pivotal vote, rejecting all of Paxton's attempts to dismiss the case pretrial.

The Senate opted against dismissing all charges against Paxton, with a vote tally of 24 in favor of continuing the trial and 6 in favor of dismissing the charges. Notably, all six senators who voted to dismiss the charges were Republicans, namely Sens. Paul Bettencourt, Donna Campbell, Brandon Creighton, Bob Hall, Lois Kolkhorst, and Tan Parker.
To dismiss the charges, a simple majority of 16 votes was required. This vote offers an initial glimpse into the senators' inclinations as Paxton's impeachment trial commenced.

However, the ultimate threshold for conviction and removal from office is a two-thirds majority, which equates to 21 members in the Senate. Paxton's wife, Sen. Angela Paxton, is disqualified from voting but allowed to attend the trial.

The first vote was to throw out all articles of impeachment for lack of evidence. The second motion asked senators to exclude evidence from before Paxton's current term.

In total, there were two dozen pretrial motions. Paxton's team challenged all articles of impeachment both individually and altogether. Senate voted to deny all of Paxton's pretrial motions. The closest vote was 20-10.

However, team Paxton did take home a small win, Lt. Gov. Dan Patrick ruled that Paxton could not be compelled to testify.

Since the trial is proceeding, there are additional steps to be addressed, including the agreement on trial rules and the swearing-in of witnesses.
In the event of conviction by the Senate, Paxton could face removal and disqualification from office. However, it's important to clarify that there are no criminal penalties, such as imprisonment, associated with this trial. Paxton is currently suspended without pay pending the trial's outcome.

The outcome of this impeachment trial could have significant ramifications for Paxton's legal troubles, including both criminal and civil matters. In addition to impeachment, Paxton faces multiple state fraud indictments, a whistleblower lawsuit, an ongoing FBI investigation, and a state bar disciplinary case.