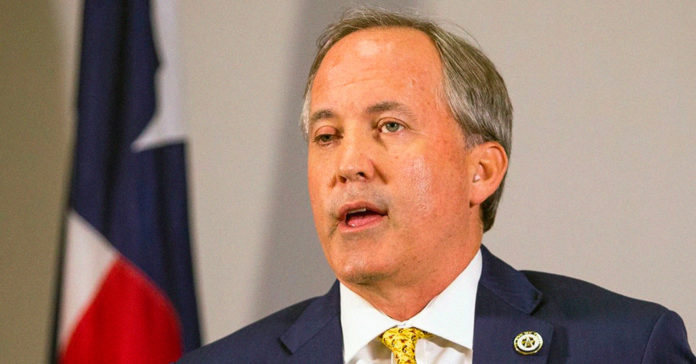 Texas Attorney General Ken Paxton is saying he will not step aside despite being urged to do so following new allegations of criminal activity, which were first reported by the Austin American-Statesman and KVUE over the weekend.
The first call for Paxton's resignation appears to have come from State Rep. Sarah Davis (R-Bellaire).
"Although innocent until proven guilty, AG Paxton has been under indictment for the past five years," Davis tweeted on Sunday. "With these new allegations of bribery and abuse of office, Paxton needs to quickly address these allegations or resign so he can devote his time to his own personal legal matters."
Paxton's former second in command, now-U.S. Rep. Chip Roy (R-Austin), agreed with Davis in a post on his Facebook page today.
 "For the good of the people of Texas and the extraordinary public servants who serve at the Office of the Attorney General, Attorney General Ken Paxton must resign," Roy said in a statement posted on his Facebook page. "The allegations of bribery, abuse of office, and other charges levied against him by at least 7 senior leaders of the Office of the Attorney General are more than troubling on the merits."
"But any grace for him to resolve differences and demonstrate if the allegations are false was eliminated by his choice instead to attack the very people entrusted, by him, to lead the office – some of whom I know well and whose character are beyond reproach."
Other Republicans have been more reticent in their reactions. Gov. Greg Abbott conceded the allegations raise serious concerns but said nothing else.
Lt. Gov. Dan Patrick said the issues are "obviously concerning," but like Abbott, said he is reserving further comment until the investigation is complete.
There has been no reaction from Texas House Speaker Dennis Bonnen, who is not seeking re-election after a scandal of his own last year.
A far less measured response is coming from Paxton's professional colleagues in the Democratic Attorneys General Association.
"The most recent news should be the last straw," read a statement from the organization's leadership provided to the New York Times and Washington Post. "All state attorneys general must be above reproach. For too long Paxton has teetered on the edge. He needs to go, and an independent investigation should be launched immediately."
The allegations appear to be tied to Paxton's relationship with Austin real estate investor Nate Paul, the Houston Chronicle reported Sunday in uncovering a text message to Paxton from former First Assistant Attorney General Jeff Mateer, who resigned on Friday. 
"Each of the individuals on this text chain made a good faith report of violations by you to an appropriate law enforcement authority concerning your relationship and activities with Nate Paul," Mateer wrote.
Paul donated $25,000 to Paxton's re-election campaign in 2018. He is currently under FBI investigation.
"The Texas attorney general's office was referred to a case from Travis County regarding allegations of crimes relating to the FBI, other government agencies and individuals," Paxton said in a statement provided by his office. "My obligation as attorney general is to conduct an investigation upon such referral. Because employees from my office impeded the investigation and because I knew Nate Paul, I ultimately decided to hire an outside independent prosecutor to make his own independent determination. Despite the effort by rogue employees and their false allegations, the AG's office will continue to seek justice in Texas and will not be resigning."
Mateer and six other senior aides in the AG's office are asking for a federal investigation of Paxton.
"We have a good faith belief that the attorney general is violating federal and/or state law including prohibitions related to improper influence, abuse of office, bribery and other potential criminal offenses," the group wrote in the one-page letter obtained by the Austin American-Statesman.
Since the news broke, Paxton campaign adviser Jordan Berry has resigned, according to the Texas Tribune's Patrick Svitek.  
Paxton, who is leading the effort to end the Affordable Care Act and serves as co-chair of Lawyers for Trump, has been under federal indictment for the last five years. Those charges accuse him of securities fraud in his personal business dealings. The case has been delayed many times and there is no date yet set for a trial. The same prosecutors handling the earlier case are expected to investigate the new allegations, the Statesman's Chuck Lindell reported.
On Monday, Paxton appointed Brent Webster to replace Mateer as first assistant attorney general. Webster has served as a criminal prosecutor in Texas for 10 years, also serving as the first assistant district attorney in Williamson County. Since leaving the Williamson County District Attorney's Office, Webster has served as a civil litigator and as a criminal defense attorney in private practice.