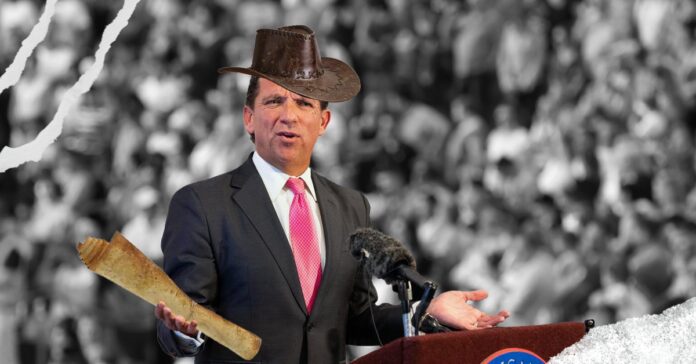 Texas Attorney General Ken Paxton filed two motions in the Texas Senate to dismiss the impeachment articles brought against him before the trial in September. 
They base their arguments on the "prior-term doctrine" to argue that state law bars the removal of an official if the conduct in question had occurred before his most recent election.
According to Texas law, an official cannot be removed from office, "for an act the officer may have committed before the officer's election to office."
However, the law does not explicitly say if it refers to the official's most recent election or their first election to that particular office.
Lt. Gov. Dan Patrick who presides over the trial as the president of the state Senate, will decide if he will grant either of the motions.
Cal Jillson, a professor of political science at Southern Methodist University, told KUT that Patrick will ultimately be the decider on how to interpret that constitutional language.
"The two main interpreter principles — it is to credit common-language meaning of words, and then to be sure that that language doesn't produce an absurd result," he said.
According to KUT, by "absurd" Jillson means different than the way most people would interpret the language.
"If I were to ask: 'When was Ken Paxton elected as attorney general?' For most people, they wouldn't know," he said. "But for you and I, we take 2014."
Patrick has not yet made any decisions on several additional motions Paxton's team has filed.
The established precedent on this legal concept is not clear, which complicates this matter further.
"The thing about the 'prior term' is that it's very Texas-centric — this isn't something we would talk about on the national level," Todd Curry, who teaches political science at the University of Texas at El Paso, told KUT.
"The problem with that is that it's so rarely used and has been so rarely used that there actually exists legal precedent on both sides of how it might be applied," he said.
According to KUT, Curry talked about various "prior-term" cases and how they have been applied in state history.
In 1893, for example, Texas Land Commissioner W.L. McGaughey was acquitted of all 16 articles of impeachment against him.
McGaughey's defense team used the same argument Paxton's team is, saying that because the allegations against him took place prior to his reelection in 1892, by being reelected, the public essentially cleared him from any official mistake.
The argument worked in 1893.
However, in 1971, Senators were not convinced by this argument during the impeachment proceedings of Texas Gov. James Ferguson. The Senators overwhelmingly voted to convict and remove Ferguson from office.
Just like many others, Curry is watching to see what Patrick decides.
"He could choose to follow the precedent he likes or not follow the precedent he likes, but it's entirely his choice," he said.
Impeachment trials are nothing like real court trials, they are political and should be treated that way, Curry added.
Meaning the precedent and rules in a regular court do not hold the same weight on the Senate floor.
Paxton is accused of bribery, abuse of office and obstruction of justice. He denies any misconduct. The three-term incumbent was impeached by the Texas House on May 27, by a vote of 121-23 and is currently suspended without pay.
The trial is due to start on Sept. 5, 2023 at 9:00 a.m.