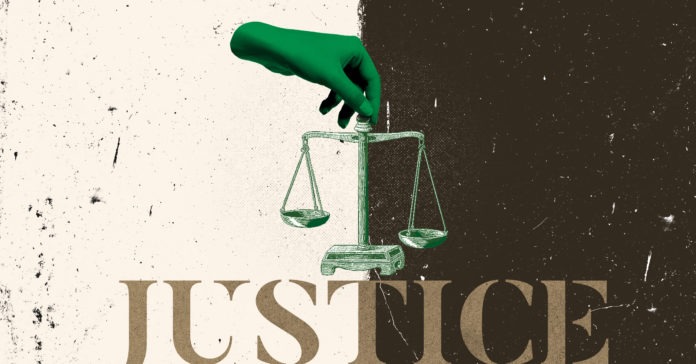 The murder of George Floyd — a fellow Texan — brought into sharp focus this year the reality that racism — especially in the justice system — is not an issue of the past.
As the state and nation continue to make progress in education, advocacy and awareness about racism, racial bias, and the impact on the criminal justice system, it's clear: there is still more work to do.
So, as the 2021 Legislative session approaches in January, the Texas branch of the Racial Justice Coalition is doubling down on its efforts to pass the Racial Justice Act.
The act would provide capital defendants with the ability to downgrade sentencing from capital punishment to life without parole when it can be shown that racial bias was a significant factor in the sentencing.
More than 72 percent of those on death row in Texas are people of color. Studies link race as a significant and deciding factor in the state's harshest punishment. In 2021, with the strength of awareness generated in 2020, the RJC hopes to change that with the RJA.
"We hope that public discourse regarding racial inequality will extend to addressing racism in capital punishment sentencing, ensuring that no one is executed on account of their race," said Megan Rollag, RJC executive director in Texas. "It is important to emphasize that we are advocating for a justice system that accounts for and seeks to mitigate the effects that racial bias has on the integrity of justice. When our justice system applies the law equally only for some, it is an injustice to all. Systemic inequality persists because, even if all actors play by the rules, the system itself has not accounted for unequal and unjust outcomes."
In light of 2020's events, RJC says it's more important than ever to bring to light data illustrating how racial bias influences the criminal justice system — including in cases that involve the death penalty — in Texas.
Data
The coalition uses several focuses of data to support their advocacy work, among them, race, how race has historically affected the justice system in Texas specifically, and the perception of Black lives in trials.
The first issue, Rollag said, is race itself. Out of the 213 inmates on death row in Texas, 156 inmates are nonwhite. Black inmates comprise 44% of death row and Latinxs inmates represent 26%, according to data from the Texas Department of Criminal Justice. In a 2008 study published by the Houston Law Review, Professor Scott Phillips found that a Black defendant's race increased the odds of proceeding to a capital trial by 75%.
Data from Pearson and the Texas Tribune show that over the last five years, more than 70% of death sentences imposed in Texas have been imposed on people of color. These numbers are even more pronounced in Texas counties that use the death penalty the most. Research from the Texas Coalition to Abolish the Death Penalty showed that 20 of the 21 defendants sentenced to death in Harris County since 2004 are people of color.
But stories of how race has historically affected the justice system in Texas are where the work of the RJC's work is perhaps most powerful.
The roots of the Racial Justice Act legislation began with the case McCleskey v. Kemp, which set a precedent for placing limitations on the use of statistical evidence to show convictions and sentencing based on race. Warren McClesky was accused of killing a white police officer during a robbery and faced the death penalty. During his trial, his attorneys presented the jury with strong evidence showing that African American defendants like McCleskey were more likely to receive a death sentence than any other defendant.
But instead, the outcome of his case set a legal expectation nearly impossible to meet: it placed the burden of proving discrimination on the defendant, in their own case. For people of color, this is an insurmountable requirement.
To put a face to these numbers, Rollag mentioned others who have faced these obstacles in the justice system, such as Duane Buck, who was sentenced to the death penalty in the late 1990s for shooting his ex-girlfriend and her friend. The psychologist called to the defense told jurors that Buck was "more likely to commit a violent crime because of his race."
Cases like McCleskey and Buck's are unfortunately all too common.
Hope for Change
The McCleskey case also said that state legislatures can pass their own legislation on how defendants can identify racial bias using evidence and appeal their sentencing.
As a result, the Racial Justice Act bill could essentially stop the state from seeking or getting a criminal conviction or imposing a sentence based on race, ethnicity or national origin.
Right now, accused Texans must rely on state or federal constitutional provisions to challenge discrimination. And the stakes are highest when the death penalty is involved, Rollag emphasized.
"While we recognize and respect the activism of years past, this year in particular has shown that there is still more work to be done," Rollag said. "We are inspired by the collaboration and teamwork people across the nation have shown in combating racial inequality in criminal justice. Racial bias influences our justice system at all levels and must be addressed; however, the stakes are highest in capital punishment cases."
The coalition is partnering with a data team in order to revisit research questions that require updating or a different approach to analysis. The focus will center around jury selection, including jury shuffling, and the effect that race has on both a jury and a minority defendant. Their efforts are also supported by several legislators in the capitol, including state Sen. José Menéndez (D-San Antonio).
"We are relying on several studies that approach this issue statewide and on the county level," Rollag said. "But we also hope that renewed perspectives and data analysis will prompt swift action by the Texas legislature."
The RJC-Texas hopes that this act and the potential impacts on things like jury selection — a crucial element in the outcome of a trial and a sentence — will be a powerful agent of change this year.
"When a jury hears expert testimony that expressly makes a defendant's race directly pertinent on the question of life or death, the impact of that evidence cannot be measured simply by how much air time it received at trial or how many pages it occupies in the record," Chief Justice John Roberts wrote in the Supreme Court decision ordering Buck's resentencing trial. "Some toxins can be deadly in small doses."