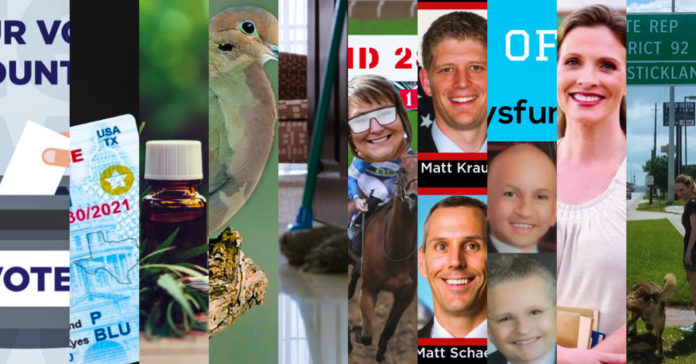 When everyone is looking forward to 2020, it's not always easy to look back on the previous year.

But the 86th Texas Legislature was a year no one will forget, and the laws put into place will affect the lives of Texans for years to come.

We covered a lot of ground this year, on topics as broad as education reform and maternal health to niche but significant topics like access to medical marijuana, in a total of 555 stories.

As the year ends, we're looking back at the top 10 stories that resonated with our readers—we hope you enjoy reflecting back with us.

In November we explained to voters and our fellow Texans the 10 Texas Constitutional amendments for 2019.

By October 2020, all Texas Driver's Licenses Get a Gold Star Upgrade, which means Texas driver's license holders must have a gold star on their ID to pass through the Transportation Security Administration (TSA) line while flying within the United States.

Montgomery County District Attorney Brett Ligon said that although Texas legalized hemp products, it didn't make arresting people for suspicion of possession of marijuana illegal. Here we shared more on Texas CBD oil still illegal in Montgomery County.

Last March, the Texas Parks and Wildlife (TPW) Commission adopted several rule changes related to public safety and conservation management that will go into effect this hunting season. The Texas Legislature also passed two significant laws that will impact hunting and fishing hobbyists. Our readers enjoyed the scoop on renewing your hunting license for the 2019-2020 season
A popular social media meme these days is the #10YearChallenge, in which users post pictures of themselves from ten years ago and show how they've changed over the last decade. When it comes to the minimum wage in Texas, however, the #10YearChallenge would show no change at all, as the Cost of Living in Texas Rises as Minimum Wage is Stuck in 2009.
Following Rep. John Zerwas' resignation, Gov. Abbott Announces Special Election for Fort Bend State House Seat and officially issued a proclamation to announce Tuesday, November 5, 2019, as the special election date to fill the vacated Texas House of Representatives District 28 seat. Eyes were on the election in the competitive district, which spans the Katy to Rosenberg areas in Fort Bend County. The runoff Election Day is January 28 and the first day of in-person early voting is Jan. 21.
We shared the six House legislators who voted against Monica's Law when it Passed House Floor. Monica's father sought out Rep. Brooks Landgraf (R – Odessa), and urged him to pass a law to protect other women through the creation of a public, online registry of orders of protection arising out of domestic violence incidents.
Our Threads Of Dysfunction Unraveling 86th Legislative Session article covered the talk of the "Big Three," and Texas lawmakers' inability to pass bills addressing important state issues like the health insurance crisis, a higher minimum wage, and school safety.
Teachers educate and mold our next generation of thinkers, workers, and leaders. Nowhere is this more important than in Texas, where we have one of the fastest growing school-age populations in the United States, and where the emerging economy needs high-skilled workers. However, Texas Teachers Deserve A Livable Wage and state officials have been removing resources from classrooms and shortchanging educators' pay. Indeed, many teachers today are forced to work multiple jobs, just to earn a living.
This past Memorial Day, over 130 dog owners and their pups gathered at Rep. Jonathan Stickland's office to organize a one-mile walk in protest, as Texas Dog Owners Bit Back Against Rep. Stickland for Killing Animal Cruelty Bill.
That's a wrap for 2019; here's to what's around the bend in 2020.

Reform Austin Year in Review: 2019