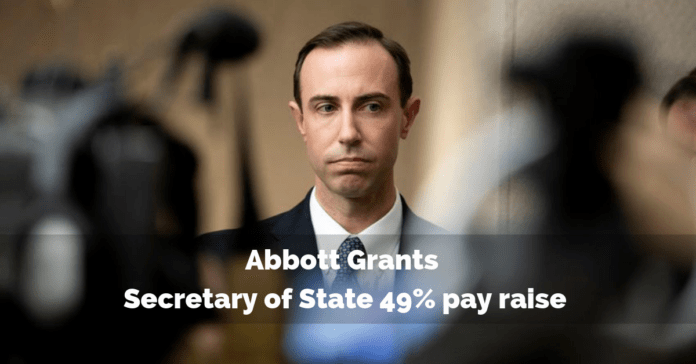 The day after David Whitley took office as Texas Secretary of State on Dec. 17, 2018, he received a 49% pay raise from friend and political ally, Governor Greg Abbott. His salary, now $197,415, increased by nearly $64,500 more than the $132,924 earned by the former Secretary of State, Rolando Pablos. Whitley previously earned $205,000 as Gov. Abbott's Deputy Chief of Staff.
In a letter to the Legislative Budget Board, the Governor's Chief of Staff indicated that Abbott used his authority to raise Whitley's annual salary.


Whitley and Abbott have a longstanding political relationship, most recently as Deputy Chief of Staff for the Governor. He began working for Abbott in 2004 as Attorney General, and has also held the title of Assistant Deputy Attorney General, among other roles.
After only a few months on the job, Whitley made national news when his office launched an investigation and declared it had found 95,000 potential non-citizens who registered to vote, which is in direct violation of state law. Whitley also directed county elections officials to investigate the list of suspect voters, giving them 30 days to prove their citizenship or be deemed ineligible to vote.
Within days of Whitley's public announcement, flaws in the data were revealed, and about 25,000 of the suspected voters were determined to be citizens who were eligible to vote. Many county officials, frustrated with the faulty data, slowed down or ceased their investigations.
Whitley and the state of Texas were hit with three lawsuits from civil rights groups and naturalized voters, prompting a federal judge to issue a series of orders that effectively halted the investigation. The matter is still pending but will likely result in settlements. Whitley admitted more care should have been taken to ensure citizens were removed from the list of suspected voters.
Abbott has continued to stand behind Whitely, despite the adversity he has faced.